April 01, 2011 -
National Football Post
Is a former lacrosse player this year's late round draft gem?
I will admit, there is nothing sexy talking about massive in-line tight end prospects who will make rosters as goal line/short yardage options and combine for all of 6 receptions during their NFL career. Nevertheless, as boring as those guys can be, they always seem to be in high demand at the back end of the draft because it's still a rare skill set.
However, what do you do with the massive blocking tight end who possesses the size/physique and athleticism to possibly make the move to left tackle in the NFL? One such prospect last year who I really took a liking to was Temple's Steve Maneri. The 6-6, 270 pound kid was the best in-line blocking tight end I saw on tape and possessed a frame that could continue to get bigger. He went un-drafted in 2010, but spent the year on the New England practice squad as a developmental tackle prospect. He's now nearly 300 pounds, is still a gifted athlete and might be the next gem the Patriots uncovered along their offensive line.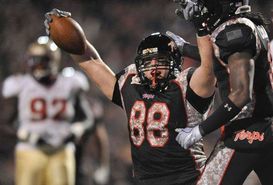 ICONYeatman is a perfect late round, developmental type prospect.
Fast forward to this year and we have a similar prospect in Maryland's Will Yeatman. Yeatman is a 6-7, 275 pound kid with 34