June 15, 2014 -
Greg Gabriel
Is a repeat in the cards?
With the way the Seahawks thoroughly dismantled the Denver Broncos in February's Super Bowl, Seattle showed without a doubt that they were the most dominant team in the NFL last season. Now, the question is whether or not Pete Carroll's crew can once again beat out the San Francisco 49ers to win the NFC West in 2014. Repeating in the NFL can be difficult.
What is impressive about Seattle is the way the organization goes about finding talent. General Manager John Schneider and head coach Pete Carroll have a player profile for every position and their scouts do an excellent job of finding players that fit the profile and system.
While the Seahawks lost some good players during the off-season, they were still able to acquire new players through both the draft and free agency. The cycle keeps on revolving and once again, the Seattle Seahawks will be one of the better clubs in the NFL.
Quarterback
In only his second year in the league, Russell Wilson won a Super Bowl. The good thing for Seattle is that we have yet to see how high Wilson can go.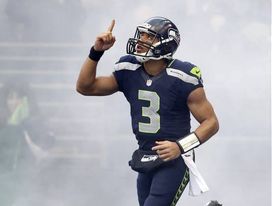 Wilson is closing in on a big-time payday.
The Seahawks have done a remarkable job keeping things conservative and playing to Wilson's strengths. With another year of experience, they will be able to open up the playbook a bit more during 2014.
Seattle needs Wilson to stay injury free because I don't see the Seahawks having much in the way of a backup. Both Tarvaris Jackson and Terrelle Pryor have shown flashes in the past, but neither has the talent to keep the Seahawks playing at a high level if Wilson goes down.
Running Backs
Like most successful NFL players who reach the mountain top, leading rusher Marshawn Lynch is looking for more money. While it gives the media something to write about, this situation will eventually work itself out and Lynch will be back as the Seahawks' top runner.
Without a doubt, Lynch is one of the best backs in the league right now. He is as competitive and physical a runner as I have ever seen. Behind Lynch is talented Christine Michael, who should be ready to break out in 2014. While Michael had some issues during his time at Texas A&M, he has the talent to be a number one back in the league. He has all the tools.
A player who has looked strong in OTAs is Robert Turbin. In his third year, Turbin is ready to come on strong.
Wide Receivers and Tight Ends
I don't see the Seahawks as having a legitimate number one NFL receiver, but I do see them as having a strong group of talented pass catchers.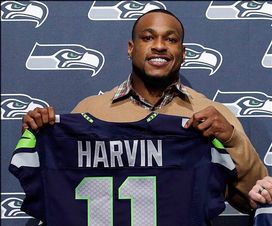 Injuries shortened Harvin's first year in Seattle, but the former Viking came up big in the Super Bowl.
Seattle lost Golden Tate in free agency, but still has reliable Doug Baldwin. Baldwin is an excellent route runner with very good hands. If Percy Harvin can stay injury free, he is a game breaker. Sidney Rice is coming off injury.
In the draft, Seattle got long and speedy Paul Richardson from the University of Colorado and a similar type player in Kevin Norwood from Alabama. Neither of these players is ready to be a starter, but they can contribute as rookies.
Eight-year man Zach Miller is Mr. Reliable at the tight end position. He can block or play flexed out and is very consistent. Second-year man Luke Wilson is the main backup.
Offensive Line
This offensive line isn't the best in the league, but they function very well together and play consistent football.
At left tackle is Russell Okung, who is as talented as any tackle in the league. The right tackle position will be determined during training camp and the pre-season. The listed starter is Michael Bowie, but don't be surprised if draft choice Justin Britt wins the job. If you did enough tape work on Britt form last season at Missouri, you know just how talented he is.
James Carpenter and J.R. Sweezy hold down the guard spots, while Steady Max Unger is at center.
Defensive Line
The Seattle defensive line was just about the best in football a year ago. However, the Seahawks lost two key players during free agency in Red Bryant and Clinton McDonald. Now the hope is that some of the young guys step up.
Brendan Mebane and Tony McDaniel will start at the tackle positions while former Minnesota Viking All-Pro Kevin Williams was just signed to provide depth inside. For additional depth, Seattle can call upon Jordan Hill and Jesse Williams.
At the end positions, Michael Bennett explored free agency, but ended up re-signing. Cliff Avril is constant on the other side. Greg Scruggs is the main backup and don't count out rookie Cassius Marsh from UCLA.
Linebackers
Bobby Wagner does an excellent job at the Mike linebacker position, as his 120 tackles in 2013 clearly demonstrated. At the Sam backer spot, K.J. Wright is also an ideal player. Bruce Irvin and Malcom Smith hold down the Will linebacker position.
An interesting rookie to watch is fourth-round pick Kevin Pierre-Louis. While he is raw, Pierre-Louis just may be the best athlete of the whole position group.
Defensive Backs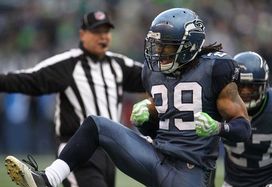 Earl Thomas just may be the best safety in the game today.
With the NFL being a copycat league, every team is looking for big corners like the ones in Seattle. The problem, however, is that they are very hard to find.
Richard Sherman and Byron Maxwell are perfect fits for the Seattle scheme. They are aggressive press cover guys with length, speed and athleticism. Tharold Simon and Jeremy Lane provide excellent depth as the third and fourth corners.
The safety duo of Earl Thomas and Kam Chancellor is as good as there is in the league.
Conclusion
Coming out of OTAs, the Seahawks look as if they will give a strong effort to repeat as World Champs. Obviously, San Francisco will be gunning for the Hawks and Arizona, as well as St. Louis, are improved.
It won't be easy to repeat, but I don't think I would bet against this franchise. Pete Carroll has shown that he is one of the best head coaches in the NFL and he does a remarkable job in getting his team ready.
Follow Greg on Twitter: @greggabe