January 09, 2012 -
National Football Post
Is Alabama CB Dre Kirkpatrick a top ten talent?
Breaking down the game and assigning a grade to Alabama CB Dre Kirkpatrick…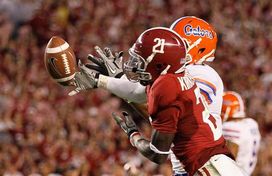 ICONKirkpatrick can disrupt timing in the pass game.
CB Dre Kirkpatrick: Alabama (6-2, 192)
Possesses elite size and overall length for the position. Showcases a long, angular frame with some natural muscle tone through his arms and lower half. Demonstrates an impressive combination of patience, instincts and physicality off the line in press coverage. Displays the ability to sit low into his stance, and slide his feet laterally, mirroring off the line and funneling his man toward the sideline. Extends his arms well into contact with the ability to routinely re-route or disrupt the timing of the play Stays balanced through contact and can use his length to extend and get his hands on the football in the three step game. Doesn't possess great lateral quickness though and can be out quicked off the line at times. Uses his length to arm bar and force defenders to the sideline. However, lacks a great first step and will allow receivers to get behind him vertically. Plays fast and long when closing on the football and uses his length well to make throwing windows small around him and down the field. However, looks like a 4.5 guy when asked to turn and run vertically. Exhibits natural balance when collecting himself vertically in order to high point the football. At times will get caught drifting on the play, but showcases "plus" coordination down the field.
Is at his best however in zone coverage. Demonstrates "plus" instincts and feel in coverage, keys off the quarterback well and quickly is able to decipher routes developing around him. Exhibits impressive change of direction skills for a bigger guy in space. Can drop his pad level quickly, keeping his feet under him and is able to come out of his breaks and close on the route. Takes good angles toward the football, maximizes his length and showcases good ball skills when breaking on the action. Also, is fluid for a taller corner and can cleanly turn and run when asked to close on throws behind him. Closing speed is only solid for his size, but again uses his length to get his hands on a lot of footballs.
In off man will struggle to quickly change directions and get out of his breaks. Needs to have his hands on receivers and be physical off the line in order to consistently limit separation. Gets a bit leggy at times in space when his zone coverage turns into off man and doesn't look as natural finding the football and limiting separation.
Is the best tackling cornerback in the draft. Does a great job using his length to fend off contact, takes excellent angles toward the action and locates the football quickly. Drops his pad level well into contact, wraps and bring his legs through the man. Is an impressive open field tackler as well with the lateral quickness and range to extend his arms and get into ball carriers bodies off his frame. An ideal zone corner who deciphers run/pass keys quickly and isn't afraid to jump into run support and win on the edge.
Impression: Will be an ideal zone corner at the next level because of his size, instincts and physicality. However, he can also press off the line and consistently re-route receivers. Isn't a dynamic quick-twitch athlete, but showcases good balance, can keep his feet under him and looks like a "plus" caliber starting cornerback in the NFL. Reminds me some of Chargers cornerback Quinton Jammer physically.
Follow me on twitter: @WesBunting
Check out the NFP Draft page here...