October 21, 2011 -
Barry Dorey
Is Arizona WR Juron Criner a big time wide out prospect?
In all honesty it was good to see Arizona WR Juron Criner back on the field and making plays last evening after suffering through a tough off-season off the field and missing time earlier in the season due to an appendectomy. Add in the fact he's also been dealing with hand/knee issues and is it any wonder the guy hasn't been the same type of threat in the pass game that he was in 2010?
However, after finishing last night's game vs. UCLA with 10-catches for 101-yards and three touchdowns a lot of talent evaluators are wondering…Is Criner a big time NFL receiver prospect?
And my answer…. no.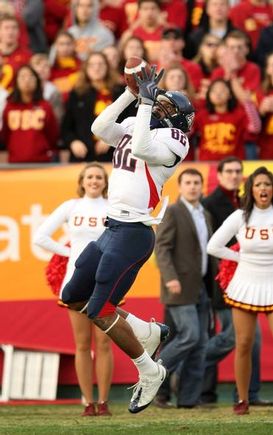 ICONCriner will go get the football.
When breaking down Criner's game there is no doubt he has the ability to make plays vs. man coverage at the next level. He showcases a solid initial burst off the line for his size, is pretty balanced/fluid when trying to separate even on sharply breaking routes and does a nice job extending his arms and adjusting to the football.
Now, he has been sloppy at times this year plucking throws off his frame. However, I think more of that is due to the hand issues and the time he has been forced to miss this year than an overall lack of focus.
Nevertheless, the big concern I have with Criner that showed up last night and also a number of other times watching him this year, is his inability to create separation vs. corners who want to get up in his face and press him off the line.
Criner doesn't showcase much in the form of short area quickness, physicality or burst in order to free himself routinely off the line. And even when he does get into his route he isn't the type of straight-line athlete to be able to simply run away from coverage and too often is forced to make plays with defenders draped all over him when they play him off the line.
To his credit, he is a strong handed kid who adjusts well to the football and can go make a play at the balls highest point. But, I still see a guy who is always going to have a tough time separating vs. press coverage at the next level.
Overall, as a prospect the guy can play on the outside and be effective as a route runner when he sees a cushion and can build up his speed initially into his routes. But, in order to be a legit starting wide out in the NFL on the outside, you have be effective beating press coverage, and at this stage I can't give that endorsement to Criner. I think he's better suited to play as a sub-package option who on occasion can play both inside and out. But trusting this guy to consistently win off the snap in press man vs. NFL caliber corners doesn't coincide with his skill set and won't allow him to play to his strengths consistently enough to be the threat his talents says he should.