May 08, 2012 -
National Football Post
Is Arkansas QB Tyler Wilson a first round talent?
The Breakdown…

QB Tyler Wilson: Arkansas (6-3, 220)

What I like…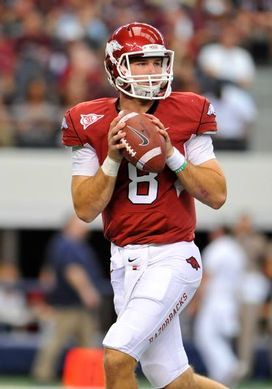 ICONWilson gets the ball out quickly.
- Is an above-average athlete at the position. Can buy time in the pocket, is comfortable making plays on the move and is accurate from a number of throwing angles.
- Generates good torque from his lower half when flushed outside the pocket and is quick to identify his "hot" target or a receiver working his way open. Is very natural when asked to improvise on the move.
- Is comfortable working off play action from under center. Showcases the ability to quickly get away from the line of scrimmage with natural length in his drop and settles himself well into the throw.
- Showcases a strong base when stepping up into throws, transfers his weight well and generates good torque from his lower half.
- Does a nice job in the pocket quickly maneuvering his body around and finding throwing lanes. Can be very accurate when he does have his feet set underneath him.
- Possesses a quick release and can throw from a number of angles as well. For the most part the ball comes out slightly above his ear, but he will drop his arm angle down at times on the move and throw more from a side arm type delivery.
- Exhibits natural accuracy/timing in the short passing game, quickly identifies defenses underneath and throws receiver open allowing them to create after the catch.
- Showcases the ability to zip the ball into the second level with good accuracy and overall timing. Knows when the ball needs to come out and will throw receivers open in the intermediate pass game as well.
- Possesses a good feel of deciphering defenses in the pocket. Works his eyes across the field and doesn't consistently lock onto one target.
- Displays nice touch on all levels of the field. Can take a bit off his throws in both the short and intermediate pass game.
- Looks comfortable dropping bucket throws into his receiver's arms vertically, confident enough to also give them a chance in jump ball situations.
- Will create in the pocket with his legs and can find the sticks and move the chains when need be.
- A tough signal caller who will hang in the pocket and take a lick in the face of pressure.
- Took over for former Arkansas QB Ryan Mallett as a sophomore and the offense didn't' miss a beat.
- Has been extremely productive throwing the football in the SEC, is a proven winner and team captain who his teammates seem to rally around.

What I don't like…

- Doesn't possess an elite arm and at times tries to really gear back and overthrow the football. Passes don't always come out clean and tend to sail on him.
- At times will throw blind into coverage. Does a nice job quickly reading where the blitz is coming, but will not consistently identify defenders (linebackers) dropping off into zone.
- At times needs to be content to eat the football. Always is trying to create something out of nothing with his legs when plays breakdown and will take same bad sacks and turnovers
- Gets a bit narrow based in the pocket and looks content to simply bounce on his toes, taking an extra step when asked to go downfield. Needs to improve the width/natural balance of his base.
- Needs to continue to improve his footwork and balance in the pocket. Is such a gifted thrower that he gets away with a poor base and mechanics from the waist down. He's naturally quick footed which is a "plus" feature to his game, but needs to do a better job staying in balance in the pocket and into throws.
- Will be late at times when looking for secondary reads. Gets a bit upright/fidgety in the pocket and gets away at times being late with a throw because of his quick release.
- When asked to throw in rhythm off his back foot doesn't do a great job transferring his weight, will fall away from throws and get lazy with footwork causing accuracy to struggle.
- Bucket throws vertically will hang on him a bit, as he gives corners a chance to recover.
- He is simply a product the Bobby Petrino system?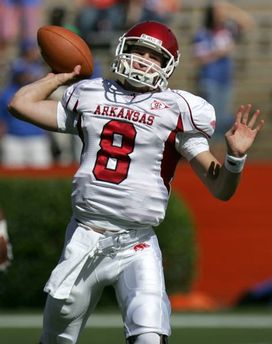 ICONThere is a lot to like about Wilson's game.
The rundown…

There is a lot to like about the game of Arkansas QB Tyler Wilson. He's a good athlete in the pocket who can quickly find throwing lanes and in an instant snap the ball out of his hands from just about any throwing angle an be accurate with the football. Now, this attribute will also get him into trouble at times as he isn't the most polished of quarterbacks from the waist down and doesn't always balance himself into throws, causing his accuracy to be inconsistent at times in the three step game.

Plus, I don't see a big time arm from him and he will try to overthrow the football causing passes to sail on him. Nevertheless, he's got more than enough arm to make all the throws needed in the NFL because of his quick release, timing and anticipation in the pass game.

He does do a nice job looking for secondary targets from the pocket and understands how to gut a defense with the big play when they bring pressure.

There is some obvious development that needs to take place with his game, especially with his footwork. But the way he generates velocity from his lower half and can create with his arm in an instant on the move, there is a little Aaron Rodgers to his game in that sense.

Overall, he looks like a prospect who if given some time could mature into a potential solid starting NFL quarterback, but in my mind his inconsistencies with his base and footwork (despite allowing him to create some big plays at times) will dog him just enough to keep him from becoming a top-tier NFL signal caller.