January 10, 2012 -
National Football Post
Is Boston College ILB Luke Kuechly an elite NFL prospect?
Breaking down the game and assigning a grade to Boston College ILB Luke Kuechly …
ILB Luke Kuechly: Boston College (6-3, 237)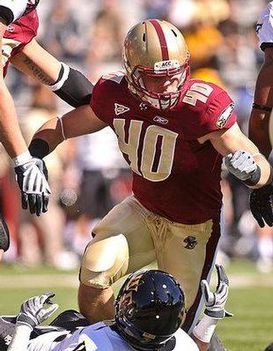 ICONKuechly can play from day one.
A solidly built athlete, but is a little narrow through the waist and doesn't have a ton of girth through his lower half. Doesn't look real muscular through the upper half as well. Regardless, the guy is just a football player. Is one of the best pure tacklers in the country and does a great job breaking down inside, lowering his pad level into contact and wrapping consistently. Showcases "plus" instincts inside vs. the run game. Keys quickly, is consistently getting early jumps on the football and showcases a little burst when attacking downhill. Does a great job extending his arms into contact when asked to avoid blocks and knows how to fend off blockers trying to get into his frame. Uses his inside hand well to keep blockers at bay once he side steps contact. Isn't overly shifty, but consistently is able to beat a blocker to a spot because of instincts, gain leverage and keep himself clean. Showcases the power to take on blocks in the hole as well. But, isn't overly long and opposing lineman will simply wrap him up and engulf on contact. Showcases a willingness to try to shed, however, is only average in this area.
Takes excellent angles in pursuit. Showcases the ability to instantly key on the run and reaches top end speed quickly. Doesn't have a great first step and straight-line speed is only average. However, plays faster because he routinely gets early jumps on the football, understands angles and has a little burst when he's finishing on the ball carrier. Wraps well in space, brings his legs through contact and knows how to get his man to the ground. Isn't the most powerful kid on contact and isn't going to force a ton of fumbles on contact. Is an above-average open field tackler as well. Lacks a little range, but shoots well into contact, takes good angles and routinely gets bigger/faster ball carriers to the ground, even if they gain a step.
Possesses a good feel in zone coverage. Keys well, feels routes developing around him and stays low and balanced in his drop, allowing him to quickly change directions. Demonstrates the ability to re-direct and get out of his breaks laterally. However, doesn't generate much of a burst or first step. Is clean to change directions, but there is no initial burst that allows him to routinely make plays on the throw, as he forced to often just play the man. Gets average depth when asked to turn and run down the field with tight ends. But, lacks great straight-line speed (looks like a 4.8 guy) and the further down the field he's asked to run the more separation he gives up. Nevertheless, displays good ball skills and is smart enough to key quickly in the pass game and mature into an average option in zone as an ILB.
Impression: He's not the biggest, strongest or fastest of athletes. But he's instinctive, plays faster than he times, finds the football in all areas of the game and can really tackle. He's going to be a bit limited in coverage, but he's instinctive enough to play on third down in zone and should end up being one of the NFL's top tackling linebackers for years to come.
Follow me on twitter: @WesBunting
Check out the NFP Draft Page here...