January 10, 2011 -
National Football Post
Is Cam Newton worthy of a top-10 pick?
Tonight could be Auburn QB Cam Newton's final game as a college quarterback. He's taken the college football world and the scouting community by storm in 2010 and because of his rare blend of size and athletic ability, he's now possibly put himself in position for a lofty grade in the 2011 NFL draft.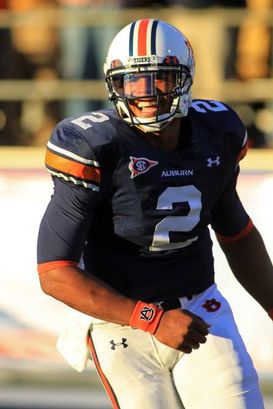 ICONNewton could be poised for a lofty draft pick.
However, the biggest question that is out there right now — assuming he does declare for the NFL draft following the National Championship game tonight — is: does Newton have the ability to end up going somewhere in the top 10 selections?
Well, from a physical and on-the-field only standpoint, in my mind the answer is absolutely. He possesses rare size for the position, is coordinated and light footed in the pocket and with ease is able to buy time for himself, create second lives and give you a run/pass threat once he gets outside the pocket and breaks contain. He's also a very gifted runner with the power to muscle over defenders, the speed to create in the open field and the body control and overall acceleration that is simply rare to see in a guy who is 6-6 and 250 pounds.
As a thrower Newton possesses a great arm, spins a clean football for the most part and makes some of the more impressive throws you will see from a quarterback when asked to get the football down the field. He displays good touch as well on bucket throws and has really improved his feel for the pass game as the season went on. Also, his overall mechanics are pretty impressive as well when asked to reset his feet, keep the ball cocked and he can really get the ball out of his hands quickly with a sharp/quick release. Now, obviously at times his footwork isn't ideal; he'll get a bit upright in the bubble screen game and trusts his arm a little too much from time to time, but overall he's a natural thrower of the football that can make all the throws with ease.
So, as a physically gifted athlete, we have a strong-armed, accurate thrower of the football with an elite athletic skill set for a guy his size who can move around in the pocket, buy time and hurt you significantly with his legs in the open field.
So the next question is: Does Newton have the type of on-the-field character to win football games for you in the NFL? And my answer as of now would be yes. From a mental standpoint you can see the guy improving each week in the pass game as a pocket passer and the game seems to be slowing down for him. He still isn't always the most decisive of decision makers when his initial read isn't on, but he's at least trying to do the right things. He doesn't seem content to simply stare down his initial read if he's covered up and force the ball into pressure, as he has the ability to work his way across the field and at least look for a secondary option. The next step is just being able to anticipate the route and get the ball out on time when scanning through reads.
However, the thing I really like is that Newton is a guy who his entire team seems to rally around, he never seems to get too down on himself or teammates in the face of adversity — which was clear vs. Alabama — and to his credit he's one of, in my mind, only two quarterbacks in the nation that could have went in Tuscaloosa and brought his team back from a 24-point deficit with a National Championship berth on the line. Right there screams "it" factor to me.
Therefore, with me being so high on his physical capabilities and on-the-field character, why haven't I just proclaimed that I would take this guy with a top-10 pick come April?
The answer: I don't know if I would yet honestly.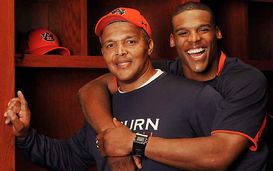 ICONThere are some off the field concerns.
There isn't much more on the field this guy can do to boost his draft stock. He can run, he can throw, he can lead his team back, he can play through adversity and I expect him to have another dynamic performance tonight vs. Oregon.
For me to say this guy is worthy of a top-10 pick I need to see it off the field. We all know about his off-the-field troubles, anywhere from the laptop to academic cheating to now his pay-for play plan, so there is definitely a dirty past to his name. Yet he comes off as a bright, well-spoken kid with a great smile who has learned and really matured from his past. Similar to how Reggie Bush was perceived back in 2006, using his charm, looks and smile to wiggle his way past some allegations that later came out, leaving us blinded by the guy's overall silky smooth demeanor. Now, in no way am I saying that Newton is guilty or hiding anything, but the fact is with a past like Newton's you can't be swayed by his charm and automatically assume he's a high-character kid now — because his past says different.
So how can you know just how good of a kid Newton really is? Well, I'd want to go out to dinner with the guy, sit down with him without the cameras on, chat about life, get a feel for him off the field as a person and try to learn just how important football is to him without asking him the question. The determining factor in my mind whether Cam Newton can reach his ceiling in the NFL doesn't come down to evaluating his physical skill set, but more so his overall mental approach, his character and his willingness to put in the time to be great.
He's got the tools and from that standpoint alone I would recommend 100 percent to take this guy in the top 10. However, as we have learned from in the past with guys like JaMarcus Russell, Ryan Leaf and now with Vince Young, if you aren't mentally grounded off the field and don't have the passion to be great on Monday, Tuesday and Wednesday in order to win on Sundays, then you will never live up to your God-given attributes in the NFL.
And that's the biggest and final piece I need to put together in finalizing the Newton puzzle — in the coming month — and in my mind will end up being the determining factor in whether he really is worth the high draft pick in the mind of myself and NFL officials, or is he simply better off being another team's problem.
Follow me on twitter: @WesBunting