June 08, 2012 -
National Football Post
Is Elon WR Aaron Mellette the next Brian Quick?
WR Aaron Mellette: Elon (6-3, 214)
What I like…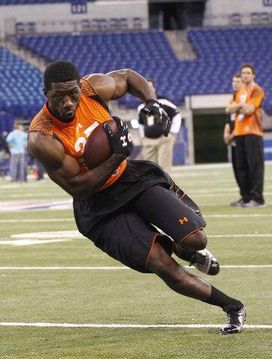 Is Mellette the next Brian Quick?
- Possesses great height for the position with a frame to add even more bulk.
- Uses his length well to extend off his frame and go get the football.
- Showcases some short area quickness of the line and on inward breaking routes, keeps his feet under him and has the ability to gain an initial step.
- Understands how to put his big body between the throw and his man, and box out corners.
- Possesses a good feel working inside from the slot and feeling soft spots in the middle of the field.
- Knows how to work himself open underneath and give his quarterback a target to throw at.
- Is a strider who builds speed and the further down the field he gets the tougher he is to cover.
- Showcases a little wiggle off the line vs. press coverage in order to slip and get into his route.
- Absorb contact well and can glide his way through the bump and get behind corners at the I-AA level vertically.
- Tracks the football well and showcases good ball awareness when asked to adjust.
- Is very natural collecting himself quickly, adjusting to the throw and winning in jump ball situations.
- Possesses the frame to mature into a strong blocker.
What I didn't like…
- Isn't a real explosive self-starter, doesn't eat up the cushion quickly and it takes him a bit to reach top speed.
- Is a developing route runner. Has a tendency to chop his feet and waste motion on inward breaking routes.
- Isn't real sharp on outward breaking routes and seems to just drift through his breaks.
- Tends to get content to simply run around corners at times vs. press coverage and I'd like to see him be more physical with his arms and not waste as many steps.
- Isn't real sudden/explosive with the ball in his hands. More smooth than quick.
- Doesn't run with a ton of power either, uses his stiff arm to stay clean, but isn't a guy who will break a ton of tackles in the NFL.
- Allows the ball to get into his frame to often and isn't the most consistent of catchers as he will put the ball on the ground.
- Doesn't have a real consistent killer instinct as a blocker, would like to see more of a wiliness from him in this area.
Overall…
There is some legit talent to Aaron Mellette's game. He's a guy who is a bear to stick with down the field once he gets his legs churning and knows how to use his body to box out defenders and pluck off his frame.
Now, he isn't a dynamic athlete and needs to learn to mature as a route runner. However, with another season of growth, looks like an intriguing developmental type guy who could end up being a second/third round type prospect.