February 13, 2012 -
National Football Post
Is Georgia Tech WR Stephen Hill the best big play threat in the draft?
WR Stephen Hill: Georgia Tech (6-5, 205)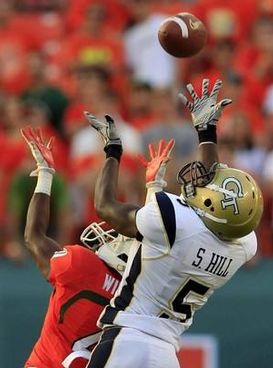 ICONHill can track/adjust to the football.
A tall, long legged wide out who has a decent get off burst for his size. Builds speed as he goes and the further down the field he gets the tougher he is to run with. Showcases good body control when asked to track the football. Locates the throw well, can extend his arms and make acrobatic plays on the football. Knows how to fend off contact down the field. Is a coordinated wide out with good body control, balances himself well when asked to high point the play and can collect himself quickly to go get the football. Showcases "plus" hands at times when asked to pluck off his frame. Exhibits a large set of paws and can snatch cleanly with one hand. However, does have a tendency at times to lose concentration and will put the ball on the ground. Exhibits some wiggle to his game for a bigger receiver with the ball in his hands. Has some natural initial explosion, can change directions and make a cut at full speed, allowing him to side step a defender with the ball in his hands. Exhibits good initial quickness/power as well when asked to side-step/break a tackle in the bubble screen game and is a tough guy initially to bring down.
Isn't a real polished route runner because of the scheme. Is asked to typically just run vertical routes where he can track/height point the football. Has been asked to work from the slot, but seemed to round off/drift in and out of his breaks. And isn't real sharp or sudden in that area of the game. Watching his short area quickness and body control for a big guy he looks like he can certainly develop in the three-step game and has the skill set to be able to beat press coverage off the line. Is a strong blocker and will get after it in the run game. Looks like a 4.5 guy, might be able to run in the low 4.5 range and does have some burst to his game. Can physically get bigger, is tall and long limbed, and I would like to see him add a bit more girth.
Impression: Has a unique skill set, can pluck off his frame, track the football and is the next big time talent from the Georgia Tech program. Is going to need some time to develop, but can come in and track football vertically early on. Has a lot of upside to his game and the skill set says he's an NFL starter.
Follow me on twitter: @WesBunting
Check out the NFP Draft Page here...