September 30, 2011 -
Barry Dorey
Is Houston QB Case Keenum making strides as a prospect?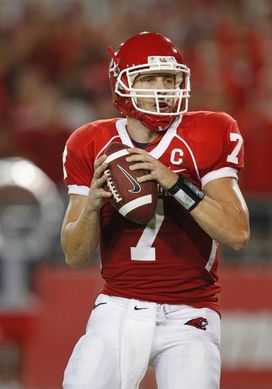 ICONKeenum has improved from the waist down.
We know all about the gaudy numbers that Houston QB Case Keenum has put up during his career, as production has never been his problem. However, as a 6th year senior where does he stand as a quarterback prospect?
After watching him last night vs. UTEP and then popping in some tape of him from 2009 and 2010 there is one difference to his game that has me thinking that maybe long term this guy could carve a niche for himself in the NFL. He's a solid athlete for the position who can buy time outside the pocket, throws well on the move and is accurate underneath with a quick delivery of the football.
Now, there is definitely going to be a major learning curve for him at the next level, like any quarterback coming from a spread. As he too often reads one side of the field only and I rarely see him moving his eyes in order to look off defenders and/or find secondary options.
However, unlike the past two seasons on tape, the one real improvement I saw from Keenum's game was his overall footwork and widened base in the pocket. In 2009 and 2010, he stood much more upright, almost bouncing in the pocket in order to try to stay in rhythm and with the flick of the wrist he got the football out of his hands. Rarely generating any kind of torque from his lower half and more or less just flung his back leg around toward his target instead of really transferring his weight.
Fast forward to this year where I saw a guy who played with much better bend in the knees, looked stronger/more balanced in the pocket and didn't need to hitch into throws consistently in order to get the football out of his hands. Plus, there were a couple of throws down the field he made with plenty of arm strength where he did a better job transferring his weight off his back foot and his velocity was improved because of it.
Now, you're never going to confuse this guy for Matthew Stafford anytime soon and even with his improved footwork/mechanics he still has at best an average NFL arm. And he's also still getting comfortable moving around in the pocket with his lower base while trying to stay in balance, as on one occasion he seemed to get caught with his weight more on his front foot while in the act of throwing and tossed an underneath route into the ground.
Nevertheless, he's at least giving himself a chance to make a roster and getting an early jump on some improvements that would have been imperative for him to make if he wanted to end up making an NFL roster. I still don't see the guy warranting much more than a later round pick at this stage. However, in the right scheme and with some time he could end up being a very capable reserve signal caller at the next level.