March 06, 2012 -
National Football Post
Is Josh Robinson a top-tier corner prospect?
The 2012 NFL Combine saw Central Florida cornerback Josh Robinson not only turn some heads with his elite 4.33 40 time. But he also was one of the top performers in the short shuttle, three-cone and both the broad and vertical jumps. Therefore, anytime you get an elite athlete at the position who puts up the type of numbers that Robinson did, it causes talent evaluators to go back and put on the tape.
Therefore, here are my thoughts on Robinson after watching him on tape post Combine…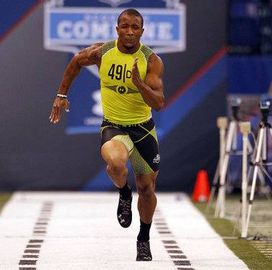 ICONDid Robinson run his way into round one?
• Possesses a thick frame and good muscle tone through the lower half. Displays a physical element to his game.
• Showcases some bite as a tackler. Breaks down well, runs his legs through contact and does a nice job wrapping on his target.
• Exhibits a "plus" second gear when asked to track the football. Once he gets his feet going he can make up ground in a hurry.
• Displays good instincts in both man and zone concepts, feeling routes develop under him and getting early jumps on the football.
• Showcases natural fluidity in the hips when asked to turn and run, doesn't look tight through his transition.
• Locates the football well vertically. Displays good body control and uses his length well to adjust and get his hands on the ball.
• Is a shade under 5-10 (5094) and lacks great height for the position.
• In press bail tends to open up the gate prematurely and will get narrow and upright with his footwork, causing him to give up initial separation vertically down the field.
• Isn't real physical off the line, is content too often to give a free release and simply try to run with receivers.
• Doesn't do a great job sitting into his drop in off-man. Tends to play a bit high and will waste some motion getting out of his breaks and overextending with his drive foot when trying to click and close. His second/third steps are where he plays fast, not necessary his initial step.
Overall, Robinson is a talented corner. He's fluid, can really run and has the vertical speed to make up for a false step at the college level. He's also a guy who will tackle and isn't afraid to mix it up inside. However, I have a tough time giving any undersized corner a first-round grade who isn't technically sound in his drop and/or isn't real physical off the line.
I think Robinson is a guy who is in fact better suited playing on the outside than inside, because I see a corner who is faster than quick and will be more effective playing in space rather than in a phone booth.
Nevertheless, there are simply too many technical flaws to his game as of now that need to be cleaned up for me to feel comfortable using a first-round grade on him. However, because of his straight-line speed, natural fluidity and willingness to tackle, I would give the guy a "dirty starter" type grade who I wouldn't have too many reservations taking in round two.
Check out the NFP Draft page here...