September 16, 2011 -
Barry Dorey
Is Kellen Moore even worth a draft pick?
I've said this before and will say it again…
If I need to win one game at the college level and I get my pick of any quarterback in the country, Kellen Moore is my guy. He's absolutely cerebral the way he makes his pre-snap reads, gets the ball out of his hands on time and accurately delivers the throw.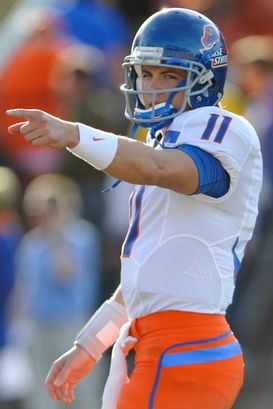 ICONMoore "gets it" from the shoulders up.
But, when discussing his potential in the NFL, in my mind it's tough to give a high grade to a guy who is 5115 (5-feet and 11.5-inches) and doesn't have the arm strength needed to make all the throws and drive the football down the field. Now to his credit he does do a nice job anticipating routes, staying in proper rhythm in the pass game and has a natural feel when the football needs to come out. Plus, his pocket awareness is very good as he's subtle with his movements buying time in the pocket, maintains balance and transfers his weight well through the throw when he has time.
However, despite his "plus" accuracy even when falling off throws, he's simply not a guy who is going to force a defense to cover the entire field at the next level because of his limited arm strength. Furthermore, because of his limited size when there is a push in the pocket right into his face, he doesn't have the stature to routinely find a throwing lane in order to deliver the football without drifting away from pressure. Therefore, too often he's forced to fall off throws, negating his arm strength even more and giving defenders a better chance to make a play on the football.
If the NFL game was played inside the numbers, Moore would be worth a first round pick. However, as an NFL quarterback he doesn't seem to possess the physical tools needed to consistently drive the football outside the numbers at the second level. And if you can get pressure in his face he doesn't exhibit the size or the arm to really scare coaches with his ability to zip a blitz beater down the field.
Now, don't get me wrong I still think there's a place for Moore in the NFL. He's a bright kid who understands how to find secondary targets, is extremely accurate with the football and will put in the time needed to be a professional.
Nevertheless, I see him more as a later round type pick/reserve only whose playing career will end up being closer to say a Koy Detmer type quarterback than a Jeff Garcia type.
Follow me on twitter: @WesBunting