May 22, 2012 -
National Football Post
Is Marcus Lattimore still the draft's best RB prospect?
RB Marcus Lattimore: South Carolina (6-0, 218)
What I like…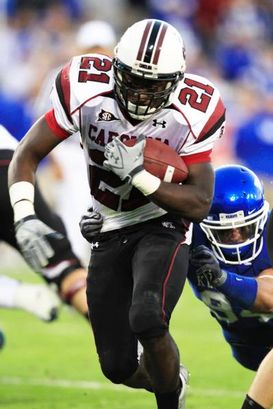 ICONLattimore is a beast when he gets into the open field.
- A man-child physically. Is well put together with a strong frame and elite power for the position.
- For a taller running back does a great job running with forward lean and good pad level when pressing the hole.
- Displays a solid initial burst when asked to press the line of scrimmage.
- Looks comfortable deciphering information at the line of scrimmage and getting downhill quickly.
- Possesses above-average feel and vision running between the tackles.
- Lowers his pad level well into contact and exhibits the kind of elite strength to routinely push the pile and grind for 2/3 yards even when nothing is there.
- Displays "plus" short areas quickness and footwork for a back his size.
- Exhibits the ability to keep natural width in his running base, sink his knees and hips and cleanly pick his way through small holes inside.
- Runs hard through contact and showcases a natural burst to his game when he accelerates out of his breaks.
- Is a bear to bring down in the open field, exhibits the power to run over tacklers and/or the ability to side step on contact.
- Is a big play threat waiting to happen because of his ability to slip a tackle at the line of scrimmage and get into the second level consistently.
- Showcases an uncanny ability for a big back to make defenders miss at top speed because of excellent coordination/footwork.
- Keeps his balance well through contact, feet are always moving forward and breaks a lot of tackles when not wrapped up on.
- Displays good vision and feel when asked to press the edge as well, locates the cutback lane quickly and is very natural squaring his shoulders and getting downhill with power/burst.
- Is patient setting up blocks running from the gun as well. Will pick his way through contact before accelerating.
- A workhouse type back who has proven he can wear down an SEC caliber defense and gets stronger as the game goes on.
- Showcases natural power, bend and footwork in blitz pick-up, isn't afraid to get dirty.
- Will catch the football out of the backfield, plucks well off his frame and has some savvy underneath as a route runner.
What I didn't like…
- Lacks an elite first step when pressing the line of scrimmage.
- Doesn't look nearly as explosive initially when working from the gun as opposed to a single backset. Is a taller back who gets a bit upright when running from the gun.
- Lacks a great second gear to his game, gets up to speed quickly, but doesn't have the straight-line speed to outpace angles.
- Will get content to bounce plays outside a bit prematurely and doesn't have the speed to run away from defenders.
- Is much easier to bring down when going east/west because of his taller frame.
- Has some real wear and tear on his body already after carrying the football over 400-times his first two years on campus.
- Is coming off a knee injury that caused him to miss the second half of the 2011 season and his health going forward is going to be a concern.
Overall…
Even when Marcus Lattimore was completely healthy as a sophomore, I would not put him in the same class as Adrian Peterson or Trent Richardson, as I don't see the same type of explosive first step from Lattimore when pressing the hole.
Now, that isn't to say I don't see Lattimore (if healthy) as a potential top-5 NFL back. However, I think from an athletic and physical standpoint both Peterson and Richardson were superior. Nevertheless, if Lattimore can fully recover from his knee injury, he looks like a guy who will be ready to step in and take the pounding of an every down type NFL back from day one.
Lattimore is a guy who can keep you ahead of the chains and because of his vision and ability to break tackles he should create his fair share of long runs, much like Larry Johnson back in the day.