May 05, 2012 -
National Football Post
Is Matt Barkley the favorite to go No.1 in 2013?
Breaking down the game of USC QB Matt Barkley…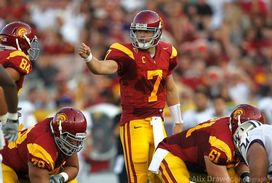 ICONBarkley is always in control of the offense.
- He showcases the ability to get out from under center, maintain balance and accurately work the three-step game.
- Possesses a compact delivery and can get the ball out quickly.
- He's a smart kid who deciphers information well in the face of pressure and quickly/accurately can find his secondary outlets.
- Possesses a wide throwing base from the pocket, doesn't need to consistently step into throws in order to generate velocity as he transfers his weight well off his back leg.
- Exhibits the ability to anticipate throws on all levels of the field, throwing receivers open and letting go of the football before receivers get out of their breaks.
- He's a "plus" thrower on the move. Generates good torque from the hips and displays good accuracy and arm strength when asked to get outside the pocket.
- Collects himself quickly in the boot action game, is a quick decision maker on the move, can settle his feet quickly and get the ball out on time.
- Is a three-year starter who has battled adversity and really matured into the leader of the USC football team.
- Exhibits a good feel in the pocket. Calmly side steps pressure and keeps his eyes down the field through the play.
- Does a nice job manipulating defenses, moving the safety and calmly working his progression back across the field.

What I don't like…
- Possesses a very average skill set. Lacks ideal size and overall arm strength.
- Is a bit limited as an athlete, isn't going to run away from any NFL defenders.
- Looks a bit slow-footed in the pocket. Doesn't reset his feet once he widens his base.
- Accuracy gets inconsistent because of struggles to quickly reset plant leg. Gets rushed because he knows the ball needs to come out on time, but struggles to reset and balance his footwork quickly.
- The same inconsistencies show up on bucket throws as he at times fails to collect himself. Will rush passes and fall off throws and/or not always stride toward his target.
- Will throw blind when finding secondary options, knows the ball needs to come out, but will force passes into coverage when working back across the field.
- Doesn't always spin the cleanest of footballs, might struggle in cold/windy conditions.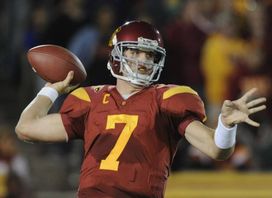 Barkley has a high floor, but isn't a lock for the first overall pick.
Barkley has been working in a pro style system for three years, deciphers information well, is adapt at handling the blitz and consistently looks to be in control of the USC offense. He's a high floor prospect who should be able to come in and compete at a higher level than most NFL quarterback prospects.
Nevertheless, there are some physical limitations surrounding a prospect like Barkley, as I worry about his less than impressive athleticism and foot quickness in the pocket. Too often he seems to struggle to quickly collect his footing, which directly corresponds with his accuracy problems. Plus, he's limited on the move and possesses only average arm strength.
Overall, I think as of now he's the favorite to be the number one overall pick in the 2013 draft and should mature into a quality NFL starter, in the Matt Ryan type mold. However, I wouldn't be shocked to see one of the more physically talented quarterbacks in the deep 2013 QB class (Logan Thomas, Virginia Tech or Tyler Bray, Tennessee) end up jumping him when it's all said and done.