March 10, 2012 -
National Football Post
Is Oklahoma State WR Justin Blackmon now a top 5 pick?
There is a lot to like about Oklahoma State wide out Justin Blackmon's game. He's a coordinated, strong athlete who despite not having elite height (6-1), has the natural length to consistently pluck off his frame and win in jump ball situations. Blackmon also possesses the skill set to win in the three step game, break a tackle and much like Anquan Boldin has done for years, create big after the catch.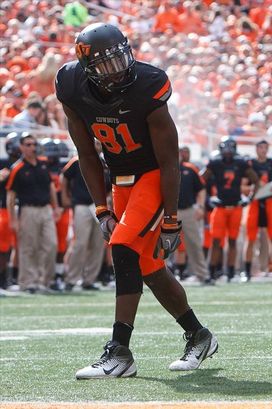 ICONBlackmon is a physical force underneath.
However, Blackmon added another feather to his cap Friday by running an "official" forty time of 4.46, displaying the type of straight-line speed needed to potentially put himself in the top-five picks.

And because of his verified straight-line speed I can now see the Browns seriously consider him with the fourth pick as well as the Rams now at six.

Blackmon would be a great fit in the Browns west coast style offense because of his run after the catch ability and would instantly gives the Rams the kind of legit number one threat they need for their offense.

Overall, I see Blackmon as a guy who can come in and be a productive wide out early in his NFL career, working the short crossing patterns, creating after the catch and separating from man coverage even on sharply breaking routes.

His better than advertised straight-line speed is going to help his draft stock and likely put him in more situations to run vertically down the field at the next level. However, based on the tape I still see a guy who is at his best shrugging off defenders on his vertical release and going up to attack the football. From a production standpoint I could see him having a similar rookie year to Julio Jones/ A.J. Green from this past season, as he looks like a guy who should be able to mature into one of the NFL's top ten receivers.