May 25, 2012 -
National Football Post
Is Ray Graham the next LeSean McCoy?
The Breakdown…

RB Ray Graham: Pittsburgh (5-9, 195)

What I like…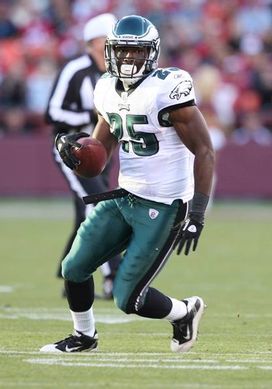 ICONIs Graham the next LeSean McCoy?
- Possesses a good first step when pressing the line of scrimmage. Initially makes himself small and runs with good forward lean.
- Is patient picking his way through traffic inside.
- Exhibits "plus" vision, sees lanes open up on the backside and has a great feel in tight areas.
- Runs with a natural base and exhibits the ability to instantly change directions in all areas of the game.
- Is an elite lateral athlete with the balance, quickness and body control to instantly cut back against the grain inside and make a defender miss.
- Is very sudden in the open field, can side step tacklers at speed and put a number of jump cuts together back to back.
- Acclerates well out of his jump cuts, gains momentum out of his breaks and attacks his way up the field once he makes a man miss.
- Consistently is able to keep plays alive because of his ability to make defenders miss in the backfield and accelerate quickly.
- Looks natural plucking the football out of the backfield. Showcases "plus" hands when asked to adjust to make a play.
- Quickly is able to balance himself and create in the open field after the catch.
- Finishes runs low, displays natural bend at the knees and hips, and rarely exposes his frame too much through the play.
- Is stronger than given credit for because of his "plus" balance and spins his way out of consistent contact when not wrapped up on.
- Was extremely productive as a sophomore with nearly 1,000-yards rushing just over 7 games.

What I didn't like…

- At times is too patient waiting for a lane to open up and will leave some yards on the field.
- Doesn't have the type of natural power to simply lower his head and push the pile when nothing is there.
- Allows his pad level to get upright when changing directions at times and can be tripped up/wrapped up easily.
- Doesn't have great straight-line speed once he get into the open field and isn't going to outpace NFL angles in space.
- Will let the ball get away from his chest plate once he gets into the open field. Would like to see him be more secure with the football.
- Is working his way back from a torn ACL he suffered last season and health going forward is a concern.
- Was unable to stay healthy when asked to carry a heavy load at Pitt in 2011, is best suited to work in more of a two back system.
- Lacks ideal power and holding up in pass protection could be a concern for him early on in the NFL.

Overall…

When healthy Pittsburgh running back Ray Graham possesses the type of "make you miss ability" and feel as a runner to consistently create big plays in the NFL. He lacks ideal top-end speed, but accelerates extremely well out of his breaks and looks natural running both between the tackles and toward the edge.

Now, the big concern with him is his overall health. He's coming back from an ACL tear and will need to prove he can be the same type of back he was prior to the injury.

However, when healthy there are a lot of similarities in Graham's game to former Pittsburgh running back LeSean McCoy (who has gone on to have a stellar career in the NFL) and Graham could end up having a very similar career if he can bounce back form the knee injury.