June 05, 2012 -
National Football Post
Is Robert Woods the best receiver the draft has to offer?
The Breakdown

WR Robert Woods: Southern Cal (6-1, 185)

What I like…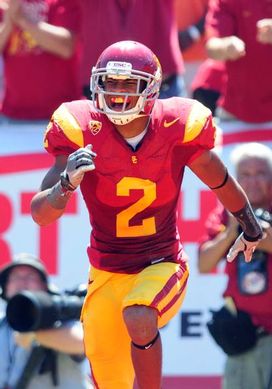 ICONWoods can be a threat on all levels of the field.
- Possesses good height for the position with a frame he can grow into.
- Showcases natural change of direction skills for a receiver of his size, can cleanly get in and out of his breaks.
- Is a polished route runner who has an understanding of staying in balance on sharply breaking routes, dropping his pad level and creating a burst out of his breaks.
- Possesses a good feel vs. man coverage. Understands how to set up routes with a head/shoulder fake, keep his legs under him and accelerate.
- Exhibits a "plus" initial first step and can initially create separation.
- Gets up to speed quickly off the line. Is a two-stepper who can eat up the cushion quickly and reach top gear.
- Plays like a legit 4.4 guy vertically, tracks the football well and can routinely get behind defenders.
- Showcases excellent body control when asked to adjust to the football.
- Exhibits natural balance as a route runner, can stop his feet quickly and adjust.
- Looks natural selling his nine route and forcing corners to turn their hips before snapping a route off underneath.
- Understands how to get defenders off balance at the line of scrimmage vs. press-man. Exhibits excellent lateral quickness and accelerates well once he gains a step.
- Is very proficient working from the slot. Understands how to find soft spots quickly,
- Looks natural selling routes inside and quickly is able to separate and create in the open field.
- Showcases natural burst and wiggle to his game when asked to make a man miss. Is explosive in space and accelerates well.
- Adds a "plus" dimension as a kick/punt return man as well, can be dynamic in the open field.

What I didn't like…

- Despite his size, isn't the most physical of receivers. Isn't overly impressive in jump ball situations and doesn't use his hands/strength real well off the line.
- Tends to lose concentration during stretches and will put the football on the ground, needs to improve his consistent focus.
- Tends to widen his release off the line vs. press coverage once he gains a step. Doesn't like to absorb contact and will waste some motion getting into his route vertically.
- Would like to see him add some more girth and get a bit stronger as well, doesn't break a ton of tackles in the open field.

Overall…

USC wideout Robert Woods is an NFL ready route runner. He's an explosive, balanced athlete who can cleanly change directions, get out of his breaks and separate on all levels of the field. Plus, he showcases the ability to beat press coverage on the outside and be effective in the slot.

Now, at 6-1 and 185 pounds, he's going to need to get stronger and become more of a physical presence, as I worry about his ability to absorb contact and hold his own initially in the NFL vs. more physical corners.

However, he certainly has the ability to come in and play all over an NFL offense from day one. He possesses the frame to get stronger and in my mind certainly warrants a first round pick, as he should mature into one of the league's better overall receivers down the line.