March 15, 2011 -
National Football Post
Is Ryan Mallett in the Panthers plan?
According to league sources, Arkansas QB Ryan Mallett is scheduled to work out for the Carolina Panthers Tuesday in Fayetteville. The Panthers currently hold the No. 1 overall pick and could be in the market for a strapping, strong-armed passer like Mallett to fill a void at QB. However, Mallett's name has yet to really be mentioned as a possible pick in that top slot. And according to scouts I've talked with, they have said Mallett is all but a lock for round one.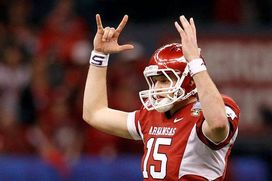 ICONMallett possesses the talent to intrigue even at pick one.
Therefore, if Mallett is a lock for round one but doesn't quite warrant the 1st overall pick, are the Panthers looking to take the best player available at one and then trade back into the 1st round to go get Mallett?
Possibly.
However, when you look at what the Panthers have in terms of ammunition this year, I really don't think they have the necessary picks needed in order to get back in round one. The Panthers currently don't have a second-round pick (what would have been No. 33 overall) because of the deal for Armanti Edwards last season.
Therefore, without a second-round pick, the Panthers would be looking to either package pretty much the rest of their draft in order to get back in the first round or could be contemplating trading out of the first overall pick, acquiring more picks in later rounds and still add the quarterback they want, possibly Mallett.
Let the games begin, as the draft at this time of the year is just as much about doing your homework as it is throwing other teams off your trail, while still finding the best way to secure the prospects you really want.
Either way, a lot needs to change for the Panthers at this time if Mallett really is in their plans. Nevertheless, Carolina is at least doing its due diligence on every quarterback prospect out there and if one thing does seem to be coming from this, it's that it looks like a QB will be added to the mix in Carolina in some way, shape or form during the 2011 NFL draft.