March 01, 2012 -
National Football Post
Is South Carolina's Stephon Gilmore the 3rd best corner in the draft?
The Breakdown…

CB Stephon Gilmore: South Carolina (6-1, 195)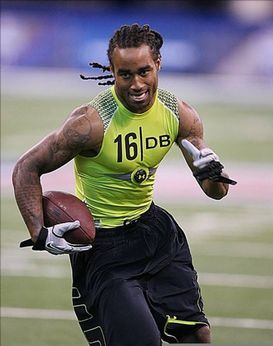 ICONGilmore worked out very well at the Combine.
A tall, solidly built corner with a physical nature to his game. Plays in mostly pres-bail/off-coverage at South Carolina and is at his best when he's near the line of scrimmage. For his size showcases impressive lateral quickness in order to mirror. Can keep his base down and under himself initially, but his base level rises the longer he's asked to sit into his drop. However, collects himself quickly and showcases a good initial burst when asked to turn and run. Uses his length well to work an arm bar toward the sideline. Is fluid in his hips, cleanly out of his backpedal and gets up to speed quickly. Exhibits good straight-line speed for his size (played like a mid 4.4 guy) and made it tough on defenders to separate vertically. Showcases some strength off the line when asked to press, has the ability to re-route because of his size, length and quickness, but needs to continue to improve his footwork in order to stay more compact/balanced.
Isn't nearly as balanced in off/zone concepts. Has a tendency to want to get upright and open up his hips prematurely. Doesn't feel the routes of receivers overly well, at times he gives up far too much cushion underneath and struggles to get back out of his breaks. Will get caught with his hips locked prematurely with his back to the sideline and is forced to get overextended with his footwork in order to click and close or simply bail out of his drop and turn his back to the receiver in order to loop around toward the football. Needs to do a better job being more patient in his drop, sitting lower and staying more compact with his footwork. However, he is the kind of athlete that can improve in this area. He showcases natural bend, quickness and fluidity to his game. When he does set his feet, showcases a good closing burst on the football. Exhibits good range in the deep half with above-average ball skills in space.
Will even line-up at safety at times. Does a nice job reading the action in front of him and getting early jumps on the ball. However, doesn't always trust what he sees when asked to close and can get a bit tentative at times. Nevertheless, is a "plus" tackler at the position who isn't afraid to come up near the line of scrimmage and throw his weight around. Is a strong kid who generates a pop on contact and will wrap on the play. At times gets a bit lazy wrapping, but has the skill set and length to fend off blocks on the edge and breakdown on the ball carrier.
Impression: Is a "plus" sized corner with good quickness and fluidity. Needs to clean up his footwork in off/zone concepts, but has skill set to play near the line, check receivers and turn and run. Should be able to fight for a starting role during his rookie year in more of a zone scheme.
Check out the NFP Draft Page here...