December 22, 2011 -
National Football Post
Is Stanford OG David DeCastro worth a top 10 pick?
OG David DeCastro: Stanford (6-5, 312)
What I like…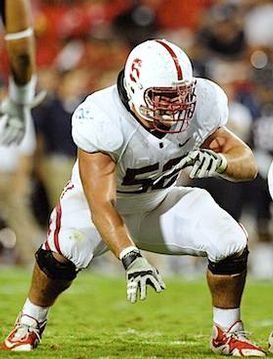 ICONDeCastro does a great job keeping his base down inside.
- Sits into his stance well and exhibits a flexible lower half.
- Showcases good initial quickness off his frame when asked to reach defenders trying to shoot gaps on either side of him in pass protection.
- Keeps his base down through contact and exhibits natural balance when asked to slide his feet laterally.
- Extends his arms well, exhibiting good hand placement under the chest plate of defenders and sticks well through contact.
- Showcases quick hands when asked to re-set through the play and maintain leverage laterally.
- Rarely gets overextend/off balance with his footwork through contact. Showcases natural fluidity when asked to shuffle and slide, and with ease can push his man past the pocket inside.
- Exhibits plus range laterally, can re-direct cleanly and is tough to side-step/disengage from in pass protection.
- Keeps his head on a swivel, locates blitzing linebackers quickly and works well in tandem with his center.
- Has a toughness/mean streak about his game, demonstrates a passion and takes pride in finishing his man in all areas of the game.
- A dominant force in the run game. Exhibits a "plus" first step off the ball as an in-line blocker and showcases an explosive snap through the hips into contact.
- Displays excellent snap awareness, is routinely the first lineman off the ball and into contact.
- Extends his hands well at the point in-line and generates good power on contact from his upper body as well.
- Is a technician when trying to create a push in-line, gains leverage, keeps his base under him and can overpower/push bigger lineman off the ball.
- Sticks well through contact, exhibits a natural feel, understands angles and can walk bigger lineman away from the play.
- Showcases excellent range when asked to pull from the backside, has the ability to lead through the hole and eliminate defenders on contact.
- Displays "plus" body control/coridnation breaking down in space, gets around blocks quickly in order to seal through contact.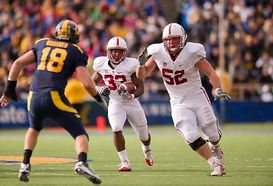 ICONDeCastro is excellent on the move.
- Looks natural chipping at the line, generating a powerful jolt on the opposing down lineman and cleanly scraping his way into the second level to seal.
- Possesses the flexibility to drop his pad level and cut down defenders on the move.
- Is a guy you can run behind in short yardage situations. Fires off the ball low, there is a real explosive element to his game as he gains leverage and creates a push form his lower half.
What I don't like…
- Lacks elite anchor strength. Can be overpowered a bit at the point of attack vs. the bull rush.
- Would like to see a more violent punch on contact, displays good hand placement, but not a real jarring pop at the point.
- Can be unwound at the waist and get upright at the point of attack vs. bigger lineman working the bull rush, causing him to "skate" into the backfield.
- Will get a bit overextended in-line as he tries to finish, causing him to lose balance and will fall off blocks through the play.
- Lacks elite natural power in his lower half and if he loses off the snap doesn't have the kind of natural strength to simply overwhelm and create a push.
Impression: The best offensive line prospect I've evaluated since Maurkice Pouncey in 2010. He showcases the ability to get a push in-line and is a dominant move player as well. He's fluid/natural in pass protection and with a little more power in his base he's got the skill set to become on of the leagues best guards early in his NFL career.
Follow me on twitter: @WesBunting
Check out the NFP Draft Page here...