June 09, 2012 -
National Football Post
Is Tavon Austin an elite slot prospect?
WR/ATH Tavon Austin: West Virginia (5-9, 174)
What I like…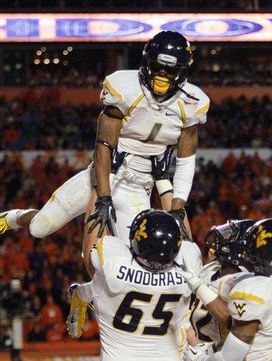 ICONAustin is use to getting into the end zone.
- An explosive, quick-twitch athlete who is a two-stepper in every sense of the word.
- Reaches top end speed instantly, can stop on a dime and showcases elite stop and go ability.
- Possesses excellent foot quickness and balance with the football in his hands.
- Showcases the ability to drop pad level, sink his hips and change directions cleanly.
- Consistently is able to make defenders miss in a phone booth or in space, and accelerate past angles.
- Is an elite straight-line athlete as well who can out pace defenders in space and is a consistent big play threat.
- Can make sharp cuts at full speed and leave defenders in the dust.
- Possesses a good feel with the ball in his hands when asked to run from the gun on the jet sweep. Sets up blocks well, is patient and routinely can get to the edge.
- Showcases an understanding of how to sell routes from the slot.
- Exhibits some suddenness when asked to run a sharply breaking route.
- Exhibits good body control adjusting to the throw.
- Will extend his arms off his frame and pluck the ball.
- Looks comfortable running option routes inside and creating initial separation out of his breaks.
- Is a dynamic punt/kick return man who knows how to set up blocks, run toward daylight and create in space. Could mature into one of the NFL's best return options.
What I didn't like…
- Lacks ideal girth on his frame and needs to continue to fill out, and get a bit stronger.
- Still developing as a receiver, is going to have to improve his overall feel/route running ability.
- Limited to more of a slot guy only, can't see him beating press on the outside and learning entire route tree.
- Better athlete than overall receiver at this stage.
- Will drop the football and try to run at times before securing the catch.
Overall…
Anytime you have a guy as dynamic as Tavon Austin, NFL teams will be interested. He's explosive with the ball in his hands, can create from the slot or in the backfield, and is simply a big play waiting to happen.
However, does he have a real position in the NFL? Watching him as a route runner I certainly think he can mature into a successful slot guy capable of separating instantly out of his breaks. He can also create from the backfield and adds a lot of value in the special teams department as well.
Overall, looks more like one of those luxury second round type picks who could end up maturing into a legit big play threat in the NFL from a number of spots on offense and on special teams.