May 10, 2012 -
National Football Post
Is Tennessee QB Tyler Bray poised for a big year?
The Breakdown…

QB Tyler Bray: Tennessee (6-6, 213)

What I like…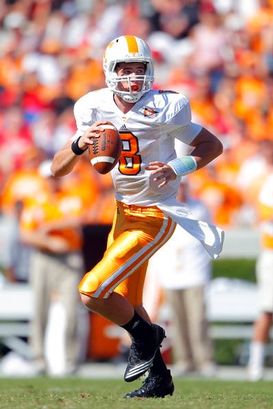 ICONBray has the frame needed to see over the O-line with ease.
- Possesses great height for the quarterback position, is able to see over the offensive line with ease and finding throwing lanes will never be a problem.
- Displays a release point that comes out over his ear when he's set and has the arm strength to make all the throws with ease.
- Works well off the play action game, gets away from center quickly, snaps his head around and showcases natural rhythm.
- Displays good bend in this knees when stepping up in the pocket and striding into throws. Transfers his weight well when set and generates good torque from his lower half.
- Displays average foot quickness for his size. Can get his feet around when looking for secondary targets (even outside the numbers) and throw in rhythm in the seven-step game when he doesn't feel pressure.
- Deciphers information well. Looks natural identifying the blitz, buying a half second and finding a "hot" option underneath.
- Looks natural throwing bucket throws down the field. Gives his receivers a chance to run under throws vertically.
- Does a nice job initially looking off defenses. Know where he wants to go with the football and will move the safety one way before getting his feet around and throwing a dart toward the opposite side of the field.
- When his feet are under him overall he displays "plus" accuracy in the intermediate pass game. Looks very comfortable throwing the deep our of confidence.
- Showcases the ability to throw receivers open and find soft spots on a levels of the field vs. zone coverage.
- Exhibits the arm strength to fit the ball into tight areas at the second level and make throws other quarterbacks simply can't.
- A two year starter as a freshman and sophomore who has handled the adversity of playing in the SEC and a young quarterback.

What I didn't like…

- Like any 6-foot-6-inch quarterback he doesn't have the quickest of releases and at times holds the ball a bit low only adding to his delivery.
- Lacks a great feel in the pocket at this stage, seems to get fidgety too quickly when he feels pressure.
- Starts to fall of throws at times when he feels pressure and will rush his footwork.
- Doesn't do a great job quickly re-setting his feet and gets comfortable trusting his arm too much on throws he feels pressure.
- Accuracy really comes apart when his feet aren't set, he understands when he needs to let go of the football, but has a tendency to lose the strike zone and fall into a sloppy trap of not setting his feet.
- Isn't a real impressive athlete and doesn't generate a ton of torque from his lower half on the move, tries to muscle throws and accuracy suffers on the move.
- Will drop his throwing angle down on the move as well, causing passes to sputter and not be nearly as accurate.
- Would like to see him add some bulk/weight to his frame in order to hold up better in the NFL.
- Isn't a guy who looks real confident at this stage hanging in the pocket and starting down the shotgun in order to deliver the throw in the face of pressure.
- Will make up his mind too often pre-snap and try to fit the ball into tight areas that aren't there, especially in the underneath passing game.
- Showcases the ability to find secondary targets, but rarely on the opposite side of the field he initially starts working his progression.
- Will try to overthrow passes vertically, causing the football to come out with a sputter, which ends up putting his receiver in jump ball situations.

The Breakdown…

When breaking down the 2012 NFL draft and looking at quarterbacks with similar physical attributes as Tyler Bray, Broncos second round pick Brock Osweiler has a lot of similarities. However, after evaluating both on tape, I liked Bray much more, even though he was only a sophomore. Bray showcased a better feel for the offense, displayed the ability at times to find secondary targets and when he stayed in balance with his footwork, hr was much more accurate on all levels of the field.

Therefore, if Osweiler was worth a second round type selection on draft day, I don't think there is any stretch in thinking that Bray, with a strong season as a junior should end up going somewhere in round one.