June 12, 2014 -
Greg Gabriel
Is the NFC North still Green Bay's to lose?
The Green Bay Packers have been one of the most consistent teams in the NFC over the last few years, as the last time this unit missed the playoffs was in 2008. Under General Manager Ted Thompson and head coach Mike McCarthy, Green Bay has done a remarkable job.
The Packers are never a big player during free agency. Instead, the organization chooses to reward their core players and then rebuild through the draft. This has been a successful formula for Green Bay. Still, it looks like Chicago and Detroit could be catching up and one or both of those clubs could challenge the Pack for the NFC North in 2014.
Quarterback
The way I look at it, there are four true "franchise" quarterbacks in the NFL at this time. That list includes Tom Brady, Peyton Manning, Drew Brees and Green Bay's Aaron Rodgers. Until last year, I also had Eli Manning in that group. But his play fell off so badly in 2013 that I dropped him from the game's elite. There are some others quarterbacks that are close to being "franchise" QBs, but they are not quite there just yet.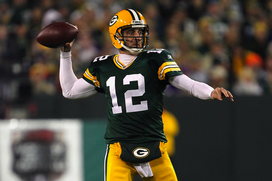 As Rodgers goes, so go the Packers.
While I have the four mentioned above in that elite category, Rodgers just may be the best of them all. He is younger than the others and is also a better athlete. When Rodgers is on his game, he can't be stopped. He has top instincts and accuracy and is a supreme playmaker.
The problem in Green Bay is that if Rodgers goes down, there is nothing behind him. Matt Flynn is the current backup and for some reason he plays well in the McCarthy system. Everywhere else Flynn has played, he has failed to get the job done. The fact of the matter is this: The Pack is in huge trouble if Aaron Rodgers can't stay healthy for the entire season.
Running Backs
In Eddie Lacy and James Starks, the Packers may have the best complementary running back duo in the NFL. Lacy, in his second year, is the lead back and is a tough, powerful inside runner who can wear down the opposition.
Starks is a big and fast slasher who is explosive and can break the big run. He has been superb in flashes, but has had problems with durability. Starks has missed time in each of his four years in the league, but when healthy, he is a top role player.
Receivers and Tight Ends
Thompson and his scouting staff do an excellent job finding receivers who can flourish in the Green Bay system. The wide receiver group is led by seven-year veteran Jordy Nelson, who has been one of the more consistent receivers in the league over the past few seasons.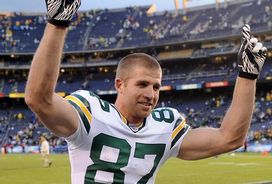 Nelson hauled in a career-high 85 receptions last season.
Across from Nelson is Randall Cobb, who is coming off a down year in that he missed a lot of time with injuries. He needs to bounce back to 2012 form when he had 80 catches.
Jarrett Boykin is currently the third receiver, but he will be challenged by two rookies for playing time in Wisconsin's Jarred Abbrederis and Fresno State's Devante Adams. Abbrederis is a tall possession receiver who runs good routes and has great hands. Adams is more of a home run threat who needs to develop his route running skills coming from the simple spread offense that Fresno played.
The Packers lost tight end Jermichael Finley last year to a neck injury. Recently, he has been cleared to play, but is a free agent and has yet to sign with anyone.
Finley is one of the most athletic tight ends in the NFL and he allowed the Packers to do a lot of different things on offense. At present, the Pack does not have a player like him. Andrew Quarless is more of your conventional tight end and can't do what Finley can.
The Packers drafted California's Richard Rodgers, but he is more of a flexed tight end. He can't block anyone. They also signed Oregon's Colt Lyerla as an undrafted free agent, but he still has to prove that he can be trusted, let alone help the team.
Offensive Line
Green Bay has always had a strong but underrated offensive line. They lost center Evan Dietrich-Smith in free agency and the new center will be either last year's draft choice, J.C. Tretter, or 2014 draft choice Cory Linsley. Tretter played tackle in college and has the traits to play center or guard in the NFL.
T.J. Lang holds down the right guard spot while Josh Sitton will compete with the loser of the Tretter-Linsley battle for the left guard spot. The right tackle is the consistent Bryan Bulaga, while last year's fourth-round pick, David Bakhtiari, is at left tackle. 2011 first-round pick Derrick Sherrod is the third tackle and this may be his last chance to prove he can be a player.
Defensive Line
While the Packers will still be a base 3-4 defensive scheme, they will make subtle changes and mix up personnel in 2014. On base downs, you will probably see prized free agent signee Julius Peppers playing on his feet at outside linebacker. On passing downs, Peppers could be either at defensive end or inside as a defensive tackle.
The nose tackle is still B.J. Raji, who is one of the best in the league playing at that position when he's on his game. The rest of the defensive line will be Mike Daniels, Jerel Worthy, Letroy Guion and rookie Khryi Thorton playing in a rotation.
Linebackers
The Pack have some depth at linebacker and it will allow them to use personnel in different packages.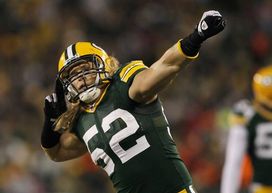 Matthews has notched 20.5 sacks over his last 23 games.
The top man of the linebacker group is Clay Matthews and he will always be one of the team's best pass rushers. Lined up opposite will be Peppers at times and also 2012 first-round pick Nick Perry. Mike Neal, who was just re-signed to a lucrative deal, can play both linebacker and defensive end. He gives the Packers a lot of flexibility.
The inside linebacker positions will be A.J. Hawk and Brad Jones, backed up by Jamari Latimore. The three give the Packers better-than-average players at the position.
Secondary
The safety position has been of some concern for Green Bay and because of that, the Packers used their first-round pick this year on Alabama safety Ha Ha Clinton-Dix. Clinton-Dix has size and athleticism and can play either free or strong safety. He is versatile in that he has some corner cover skills which will help in sub-packages.
The other safety will be Morgan Burnett, who has had an up and down career in Green Bay. While he had 96 total tackles a year ago, he also had no interceptions.
The Packers have two fairly good corners in Tramon Williams and Sam Shields. They are backed up by Casey Hayward and Micah Hyde. Hyde has the versatility to also play safety. While the overall talent of the secondary group is good, it is not outstanding.
Conclusion
Looking at the roster and the depth chart, I'm not so sure Green Bay can hold onto the division title. The offensive line is at best a question mark and the main depth at the receiver position comes in the form of rookies. Aaron Rodgers has to be at the top of his game for the Packers offense to function properly. The overall depth on offense is not what it has been in the past.
On defense, the Packers have really been hurt by injuries the last few years. On paper, the front seven h as some players like Peppers and Neal who can play more than one position, which will certainly help. They key is keeping the core players healthy.
As I said above, the secondary is good but not great. They need Clinton-Dix to come on strong and play like a veteran.
With camp just over a month away, I think Green Bay's best shot at the playoffs will be as a wild card. Their nemesis to the south, the Chicago Bears, has a totally revamped defense and just may take the division in 2014.
Follow Greg on Twitter: @greggabe