January 10, 2012 -
National Football Post
Is Virginia Tech RB David Wilson the draft's number two RB prospect?
Breaking down the game and assigning a grade to Virginia Tech RB David Wilson …
RB David Wilson: Virginia Tech (5-10, 205)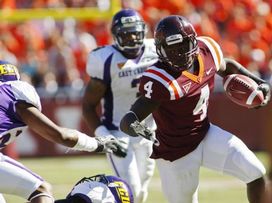 Wilson can fly around the edge.
Looks a lot thicker than his frame would suggest. Possesses natural girth through his lower half, thick legs and a bubble. Is a little thinner through his upper body, but has the lower body girth to hold up inside as the next level. Is an explosive athlete with natural quick-twitch ability when asked to press the hole. Showcases a "plus" burst on the toss sweep to the edge. Exhibits impressive balance and footwork running the corner and possesses the quickness to simply side step defenders at full speed and explode into the open field. Plays fast in space, drops his pad level well and keeps his knees bent when looking to make a defender miss. Looks like a 4.4 guy with top end acceleration.
Showcases some patience at the line of scrimmage when asked to run from I-formation sets/single backsets. Allows his blockers to set up in front of him and trusts his first step even with defenders closing in on him. However, can be a bit slow at times to decipher information inside and vision is only average. Nevertheless, runs with a low pad level and good forward lean, with the change of direction skills to pick his way through a phone booth and accelerate. Demonstrates a unique blend of quickness, burst and an overall aggressive/powerful running style and isn't afraid to lower his head into contact and slip/break tackles. Is a balanced runner into contact who can keep his feet if defenders don't wrap up.
At times will allow his pad level to pop upright inside when looking to burst into the open field and can easily be wrapped on the play when he exposes his legs. However, for the most part keeps his pad level down and will churn his leg through contact and make himself small when plays are all blocked up. Will leave some yards on the field and has a tendency at times to try to out run the defense, causing him to run into some negative plays. Would like to see him be more content to simply win the play with a two-yard gain and move on. Also, ball security at times gets a bit lose and he will put the ball on the ground.
Showcases good hands in the pass game. Looks natural snapping his head around on the screen and was used down the field at times as well, showcasing the body control/coordination to pluck off his frame. Needs work in blitz pick-up. More of a cut guy only who isn't' real patient and doesn't routinely get much of his man. Nevertheless, has played a dynamic role in the kick return game and adds a quality return man to an NFL roster.
Impression: He's a compact kid who runs stronger/harder than you would expect from a guy his size. Has a dynamic quality to his game both inside and in the open field, and looks capable of maturing into a very good NFL running back early on in the NFL.
Follow me on twitter: @WesBunting
Check out the NFP Draft page here...