October 28, 2011 -
Barry Dorey
Janoris Jenkins: The forgotten first rounder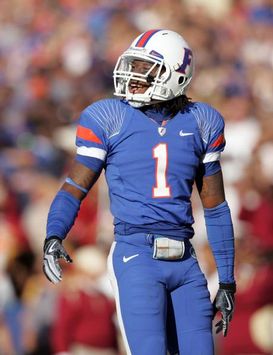 ICONJenkins was at his best vs. top SEC competition.
Jenkins, a former All-SEC standout cornerback for the Florida Gators was dismissed from the football team back in April following his arrest on misdemeanor marijuana charges.
After giving the NFL supplemental draft some thought, he elected to transfer to Division II North Alabama and is putting in a very solid season of work. He currently ranks 3rd on the team in tackles with one pick and 3 passes defended on the year. And while watching some tape of him earlier in the season, he's being used a lot more in press man concepts and to his credit looks comfortable near the line. He's doing a nice job sitting low into his drop, extending the proper press hand, fluidly turning and running with the receiver, and quickly locating the football.
At Florida he was used at times in press, but his bread and butter was as an off/zone guy because of his elite click and close ability. Jenkins still has a tendency to get a bit fidgety in his drop in off man and likes to begin to open up his hips a bit prematurely. However, he's a very balanced individual with excellent foot quickness and he sinks his hips about as low as any corner in the draft when looking to drive on the football, generating an elite burst because of it.
Plus, while watching Jenkins get more touches as a punt returner this year on North Alabama you can tell that he's not only a quick-twitch athlete coming out of his breaks, but that he has a second gear that simply makes him look like a man amongst boys at the D-II level -even vs. the top-tier competition-. He simply plays at another speed with the ball in his hands as he fluidly changes directions and accelerates toward daylight.
Now, at 5-10, 182-pounds he does look thinly built, even at the D-II level and concerns about his size will cause him to fall some on draft day. However, the biggest concern is the character. Because honestly the talent says -in my view- this is the best natural cover man in the entire senior class.
But much like Jimmy Smith last year (first round pick, Colorado) Jenkins will likely fall further on draft day than his talent indicates because of these concerns.
Nevertheless, if he can put it all together off the field, he's got the ability to develop into a very good cover man in the NFL. And despite his size he's going to be a really tough guy to separate from in just about any scheme he plays in, which is why I think Jenkins will still warrant a first round grade when it's all said and done.