February 04, 2012 -
National Football Post
Junior prospects on the rise
There is always more of an unknown when you start evaluating underclassmen prospects. They are typically younger, need a bit more seasoning, but the overall talent and upside are what make them so intriguing. Therefore, here is a look at five prospects who aren't getting a ton of first round publicity now, but could be on the move up draft boards in the coming weeks with strong Combine performances.
QB Brock Osweiler: Arizona State (6-8, 240)
I'm not a huge fan of Osweiler. I think from a pure talent standpoint he's probably worth a third round grade. However, when breaking down his tape, his overall performances and grade as a quarterback doesn't warrant much more than a later round pick. However, he's a strapping kid with sneaky athleticism for his size and a strong arm. And with some of the struggles of the senior quarterback crop, Osweiler is a guy who could seize momentum throwing vs. air at the Combine -where I expect him to excel- and become the draft's third rated QB.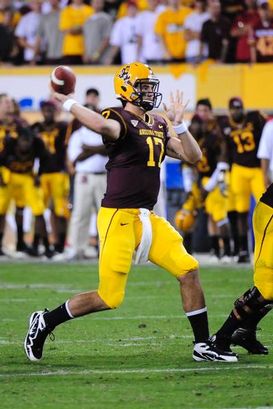 ICONOsweiler has the talent to move up draft boards.
RB David Wilson: Virginia Tech (5-10, 205)
Running back is a stopwatch postion and typically the guys who run the fastest end up going the highest. And there is no doubt that Wilson is going to run well. He's got an explosive first step, presses space quickly and can outpace angles in the open field. He needs to do a better job of not leaving so many yards on the field and simply take what the defense gives him at times. However, he's a talented kid with homerun potential and his stock should soar once he puts down some impressive workout numbers.
TE Orson Charles: Georgia (6-3, 241)
The mismatch tight end is becoming the "must have" postion in the NFL now. A guy who can create down the seam and separate from the slot vs. safeties/corners warrents quite the price tag in today's NFL. Charles is a gifted athlete who runs well and has the type of athleticism needed to create vertically and run after the catch. He's going to be the most athletic tight end at the Combine this year and likely will end up being the top rated "off the line Y" prospect in the draft., which could allow him to sneak into round one.
DT Dontari Poe: Memphis (6-5, 350)
There aren't many men in the NFL that possess Poe's combination of size, power and athletcism. And that right there will likely cause him to get drafted higher than his play warrents. The big man flashes on tape there is no doubt about that. However, he doesn't have that kind of play-to-play passion you look for, as his motor is inconsstent and he doesn't make a ton of plays on the football. I'd feel more comfortable taking this guy somewhere in round two and giving him more time to mature.. However, the talent is elite and when it's all said and done I can see him getting over drafted because of it.
DE Whitney Mercilus: Illinois (6-4, 265)
He's a freaky looking athlete with good size, "plus" length and elite production in 2011. He's going to run well at the Combine and has the physical attributes that will intrigue. However, I see a tighter pass rusher who struggles to drop his pad level on the edge, doesn't have much lateral quickness off his speed rush and struggles to keep his pad level down when working the bull. Nevertheless, this is a guy who because of his workout numbers will likely have a good chance of cracking round one.
Follow me on twitter: @WesBunting
Check out the NFP Draft page here...