December 07, 2010 -
National Football Post
Just bad taste
From former NFL wide receiver and Iowa Hawkeye Tim Dwight:
A few weeks ago I was traveling back from a charity event in Des Moines, and I was disturbed by a commercial I viewed while watching an NFL game. The commercial was marketing an Xbox game named "Black Ops". The opening scene began with a woman walking in high heels down a rock?speckled sidewalk. All of a sudden there was a weapon in her hand and she started firing away while smiling. She was dressed in normal everyday business attire. Then came in other people that look like people you see during everyday life. The screen was then filled with helicopters, guns, rocket launchers and grenades. The scene quickly evolved into a war zone. With bombs exploding and weapons being fired at people, a familiar face took main stage, Kobe Bryant.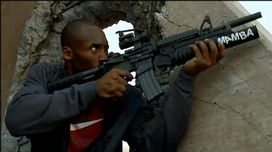 Kobe Bryant fires away in Black Ops promotion.
I thought to myself, what is Kobe Bryant doing in a commercial supporting war, guns and these horrible acts? Has Kobe Bryant ever been to war? Has Kobe Bryant ever been to boot camp? Has Kobe Bryant, with his multi?million dollar contracts, ever been on a USO trip in Iraq? I couldn't find the answers to my questions but I think I already knew and it began to make me angry. On the way back to San Diego I found myself becoming even more irritated with this commercial. Who on Kobe's marketing team thought this was such a good idea?
Whether he likes it or not, Kobe Bryant is a role model. He is supposed to inspire young children to grow up and be the best at whatever they turn out to be. Yet, here is their role model basketball player, getting paid, and acting like some wanna?be soldier in a war zone. This is a poor message to be sending.
What does this teach our young children about war and its ugliness? Are war, guns, and killing what Kobe does in his spare time? Yes he may play Xbox and "pretend" to be the "soldier" in everyone of us, but this is bad tact. We cannot have our role models on national television shooting guns in a make believe war zone and it being portrayed as cool.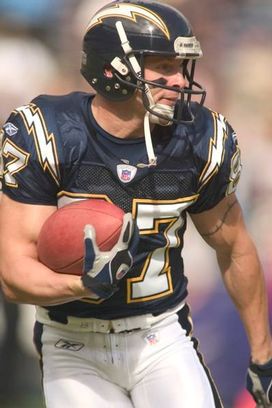 ICONFormer NFL wide receiver Tim Dwight.
The reason kids like football, basketball, sports, music, science, etc. is because they are exposed to these types of activities daily. Every Sunday an NFL game is on television and millions of kids are watching, emulating to be like the people on the field. There is a responsibility to showcase what is appropriate and what is not. I have never seen or read about a football or basketball game being played during a firefight. This is the first time I have ever seen a professional athlete pretend to be something of this nature.
Not only does this reflect poorly on Kobe, but also on the NFL. Having played 10 years in the league I know that the NFL controls everything that's on their programming. Whether it's commercials, game socks or interviews, the NFL controls their product. The NFL has a greater responsibility to showcase the appropriate activities, commercials and products to their fans. I would like to know what mothers across the nation think about their children watching these types of commercials during NFL games. Are these the type of people we want to be raising in our country? What type of mind?set is this creating in our children as more and more inappropriate material hits our airwaves? All to make a buck!
The last issue I have with this example of bad marketing is that it took place during Veteran's Day week. This is the time to say thank you to our men and women that serve or have served to protect our country. Men and women that have been through boot camps, uncomfortable plane rides across oceans, brutal heat waves during Iraq summers, and Agent Orange. Veteran's week is a time to say thank you. Not the time to have some role model on television shooting it up and smiling because it's making him money and war is "cool".
Let's get serious America. War is not to be idolized or shown in popularity. War is about death, pain and suffering, nothing more. The NFL and Kobe Bryant should be ashamed of their actions in commercializing the lives and deaths of our servicemen and women. I hope this is the last time we see one of our athlete role models pretending in a life situation that no one would ever want to experience.
Thank you,
Tim Dwight