February 15, 2012 -
National Football Post
Just how good is LSU DT Michael Brockers?
DL Michael Brockers: Louisiana State (6-6, 306)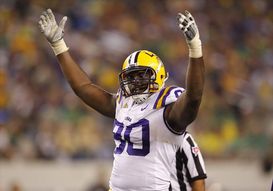 ICONBrockers is an intriguing physical specimen.
Came to LSU as a 6-6, 255-pound strong side linebacker recruit. Has added significant weight since than and really filled out his thick, broad frame. Displays impressive lower body strength through his lower half, with a thick set of legs and strong bubble. Possesses natural bend when asked to sit into his stance for his size and generates an explosive snap off the football. Plays the run game about as well as any 6-6 prospect I have seen inside. Is able to keep his pad level down, gain leverage and sit into his stance. Showcases the ability to anchor vs. the double team as well, despite his size and is a bear to move off the football. Would like to see him do a more consistent job extending his arms into contact. However, has the length and upper body strength to extend through contact, overpower/shed the block and make plays off his frame. Is a solid athlete off his frame, but is better in tighter areas where he can use his length to wrap on contact. However, when he does extend his arms off the snap showcases the burst and athleticism to create a jolt and slip his man, allowing him to get into the backfield. Exhibits "plus" ball awareness and overall instincts for the game as well. Routinely is able to sniff out the screen game, locate the ball inside and make his way toward the carrier.
Now, is still developing as a pass rusher. Showcases a good get off burst and when he keeps his pad level down has the ability to gain leverage, extend his arms and use his long arms to shed. Showcases some nasty with his length in order to keep himself clean and shed. Also displays some natural body control and suddenness off the snap in order to slip blocks initially and get up the field. However, too often allows his pad level to get upright initially when trying to slip blocks on contact and through the play. He's so naturally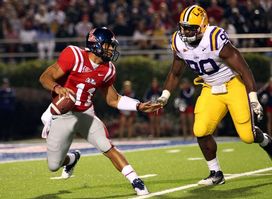 ICONBrockers can cover some ground off his frame.
powerful/gifted that he can still force his way up the field. But is easy to seal from the action and stick to through contact. Looks athletic enough to stunt toward the edge and displays some know how of when to work his club toward the edge; at times will even try to turn the corner. But again gets upright and will expose his frame. Uses his powerful club inside as well and can gain a step, but eventually pops upright in the process. It's just a matter of him learning how to be a more effective pass rusher though because he displays the suddenness/length and natural power to overwhelm initially on the bull rush and shed.
Doesn't have a ton of experience playing inside either. Is a redshirt sophomore who started only one year at the position and is still raw. However, he has displayed the willingness to put on the weight off the field and keep himself in good shape. Plus, he's an instinctive kid who finds the football. That tells me he puts in the work, has a passion for the game and will continue to get better.
Impression: He might be a little raw and could have used some more work at the college level. However, he's an NFL talent with "plus" upside but can also come in and play vs. the run at a high level right away. Should get looks at both the three and five-technique spots and in my mind has the ability to become one of the better defensive lineman in the NFL down the line. However, long term his best spot looks like a 34 DE.
Follow me on twitter: @WesBunting
Check out the NFP Draft page here...