January 06, 2012 -
National Football Post
Just how good is South Carolina WR Alshon Jeffery?
Breaking down the game and assigning a grade to South Carolina 6-4, 227-pound Alshon Jeffery.
What I like…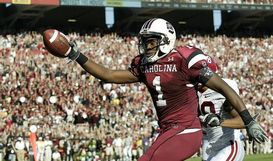 ICONJeffery is at his best using his size, length and body control to go get the football.
- Possesses elite size for the position with a long set of arms and massive pair of hands.
- Is a natural plucker of the football. Consistently is able to extend off his frame and maximize his long wingspan in order to go get the throw.
- Is very coordinated when asked to adjust to the throw, contorting his body, extending his arms and still getting his feet in bounds.
- Showcases good initial short area quickness off the line for his size. Knows how to work the jab step vs. press, get corners off balance and will drop his pad level initially into his route.
- Has a slight burst off the line at times and uses his length well to fend off defenders who try to stay engaged down the field. Does a nice job maintaining balance and keeping defenders from getting into his frame vertically.
- Locates the football well vertically. Has natural feel working the back shoulder fade with the strength to fight though contact and the grace to avoid it.
- Builds speed as he goes vertically down the field. The further down the field he's able to run the tough he is to cover because of his deceptive strider speed.
- Exhibits "plus" body control when asked to quickly collect himself and adjust to the play.
- Looks like a power forward the way he goes up and gets the football.
- Showcases some savvy as a vertical route runner looking off defenders and cleanly getting out of his breaks.
- Does a nice job gaining an initial step to the post/corner, putting the defensive back on his hip, using his big frame to shield and go get the football.
- Uses his hands well to create a little separation when corners want to be physical with him out of his breaks. His long arms and subtle strength allows him to create a little push out of his routes and separate initially.
- Snaps his head around quickly out of his breaks and exhibits elite range when asked to go snatch the football.
- Showcases a little quickness with the ball in his hands, side-stepping defenders and creating a bit after the catch.
- Will work in the run game. Has the length to gain leverage, stick to defenders and win through contact.
What I don't like…
- Isn't a real explosive self-starter. Takes him a bit to get going and reach top end speed.
- Isn't a burner either, builds speed as he goes, but looks like a 4.6 guy on tape.
- Will allow corners to get into his frame initially off the line in press coverage and often isn't as physical with his hands as your would expect.
- Will get upright off the line vs. press and too often looks to skip into his route. Would like to see him stay lower and more compact.
- Stutters his steps when trying to get out of his breaks in the three-step game and will advertise his routes a bit.
- Gets upright when running the inward breaking routes, making him susceptible to physical corners when trying to change directions.
- Never generates much separation out of his breaks on all areas of the field.
- Makes most of his plays with defensive backs draped all over him.
- Saw his production drop dramatically in 2011 due to a change at quarterback.
- Has had some issues with weight, looked a bit heavy coming into the 2011 season.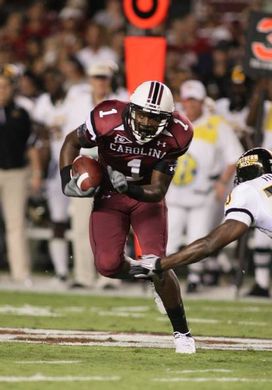 ICONJeffery is a sneaky athlete, but will always have a tough time separating in the NFL.
Overview: A big wide out who lacks ideal top end speed and isn't a real explosive self-starter. He does display a little short area quickness for his size, however, not enough to consistently create legit separation off the line. Does a great job extending his long arms and adjusting to the football and the further down the field he can stride the tougher he is to cover.
Nevertheless, he strikes me as a guy who is always going to have a tough time creating separation for himself at the next level. Will still be able to make his fair share of plays because of his "plus" jump ball ability and will be a dangerous threat inside the red zone where he doesn't have to run away from defenders.
Overall, Jeffery looks like a more dynamic version of Seahawks wide out Mike Williams who will be limited in the routes he can run (fade, slant, post, corner) at the next level. But can still be successful as the "Z" receiver where he will be put in motion and used a lot in two man routes with the tight end running vertical and adjusting to the throw. However, he's never going to be overly productive due to his inability to separate consistently of his breaks.
Follow me on twitter: @WesBunting
Check out the NFP Draft page here...