March 28, 2014 -
Dr. David Chao
Kain Colter is right
The college athletics world is on edge after former Northwestern quarterback Kain Colter was granted the right by a National Labor Relations Board (NLRB) regional director to form a college athletes union this past week.
I am not a judge or labor attorney. I have no experience with unions. I have no idea what the legal distinction is between "employee" and "student athlete." I am a practicing orthopedic surgeon/sports medicine expert and a former NFL head team physician that has attended 19 NFL Scouting Combines. I had a first hand look at how many colleges handled injuries. I am also very familiar with treating college athletes myself.
Colter states, "Our number one issue is medical coverage and medical protection." He is correct that college athletes deserve this care and they are not always getting it now. He is the only Northwestern athlete to speak out publically and testify at the NLRB.
I am not agreeing or disagreeing with the right to unionize. I am not even sure of my opinion regarding the payment of college athletes. However, I am sure that athletes who are injured while playing sports that make the NCAA money deserve to be cared for in a first class manner.
Currently, this does not always happen. Every year that I attended the Combine I witnessed athletes who came in with injuries that required surgery because they were not diagnosed in a timely manner or provided by the school.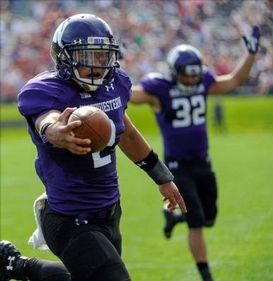 US PRESSWIREColter is taking on the NCAA for the benefit of players everywhere.
This year appeared to be no different. I did not attend the Combine for the first time in 20 years, but once again, several injuries were discovered in Indianapolis as reported by the media.
University of Washington tight end Austin Seferian-Jenkins had foot surgery after his injury was discovered in Indianapolis. A Combine physical also revealed that Northern Illinois safety Jimmie Ward had a stress fracture. He was not allowed to participate in drills in and has since undergone surgery. TCU cornerback Jason Verrett did not have surgery on his torn shoulder labrum until March.
In addition, it was reported at the Combine that Alabama offensive tackle Cyrus Kouandjio had an arthritic knee that caused some teams to fail him on the physical. That fact was disputed by his college team physicians.
These are just the untreated injuries that we hear about. Most afflictions are kept out of the public eye due to federal confidentiality laws and the player's desire to be drafted.
I am not accusing schools and team physicians of negligence, but somehow these injuries slip through the cracks. What about all the nagging injuries that require rehab? The public doesn't hear about those.
The Combine invites approximately the top 330 college football players in the land. If this group has injuries that aren't cared for, what about the tens of thousands of others who won't make it to the NFL? I am quite sure some schools and college medical staffs have it right, but clearly we can do much better.
At a minimum, NCAA teams should perform exit physicals for all players and especially for the ones whose eligibility has been exhausted. There should be longitudinal follow up on the injuries to ensure the best outcomes. The NFL does this routinely. Colleges should too.
In fact, season end is by far the busiest time of the medical year for the NFL. This is when the year-end physicals, surgeries and offseason rehabilitation occurs. NFL athletes can get this follow-up medical care, yet most don't live in the city where they play. Why can't college athletes get it when they attend school and live locally for at least eight months a year?
In addition, all college teams should assume primary financial responsibility for injured players. Currently, this does not routinely happen. In my experience, schools try to use parental or non-athletic department insurance first.
If a student athlete tears his ACL and has HMO insurance through his parents, the surgery is usually performed by that HMO doctor and not the team physician or surgeon of the player's choice. Usually, school insurance acts as the secondary policy only.
From my personal experience, it is not the athletic trainers or college team doctors who are at fault. The medical budgets are squeezed and their insurance costs are monitored.
I don't know where this ruling will ultimately lead. I know many will weigh in and several attorneys will be involved before a final answer is handed down. From my medical experience in the NFL and college football world, injured college athletes deserve medical coverage and medical protection from their schools.
Besides being courageous to speak out, Kain Coulter is right about his medical position.
Follow David on Twitter: @profootballdoc
Dr. David Chao is a former NFL head team physician with 17 years of sideline, locker and training room experience. He currently has a successful orthopedic/sports medicine practice in San Diego.