October 25, 2012 -
National Football Post
Key Match-Ups Between Potential NFL Prospects
Florida –vs- Georgia
Florida OT Xavier Nixon (6047, 306 & 5.30 E) –vs- Georgia OLB Jarvis Jones* (6030 E, 241 E & 4.55 E)
While not viewed as one of the premier offensive tackles in the country, Nixon is a good prospect who is viewed as a potential starting NFL offensive tackle. On the other side of the ledger, Jarvis Jones will return to the starting lineup after missing last week's Kentucky game due to a sprained ankle. Having started at left tackle throughout his career, Nixon has consistently displayed the feet, flexibility and athleticism necessary to protect the corner effectively. However, Jones' elite first step initial quickness off the ball, speed to threaten the corner and pass rush moves will provide a great challenge to Nixon. This game provides Nixon with the ultimate challenge to prove he can handle playing left tackle in the NFL because if he struggles greatly he could end being viewed as a right tackle prospect. Interesting though is that for Florida's offense to be successful against Georgia, Nixon's ability to run block effectively vs Jones will be key as the Gators' offense is based around the run. For a player who makes a huge impact rushing the quarterback and chasing down running plays in pursuit, Jones must prove he can play strong at the point of attack vs Nixon's run blocking to ease concerns about his playing strength.
Oklahoma –vs- Notre Dame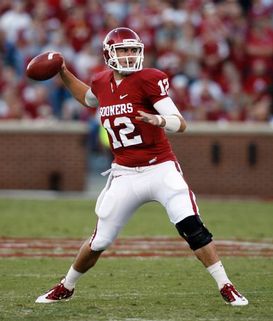 ICONOklahoma QB Landry Jones about to throw a pass.

Oklahoma QB Landry Jones (6040 E, 230 E & 4.90 E) –vs- Notre Dame's Elite Defense
For a quarterback who has been hyped as a future first round pick since 2011, Jones has not played like one so far in 2012 and gets a great challenge this week going against Notre Dame's defense. Led by senior linebacker Manti Te'o and sophomore defensive linemen Stephon Tuitt, Notre Dame's defense has been able to shut down opposing offense's rushing attack while constantly pressuring the quarterback. If Oklahoma is going to score enough points to win they will need Jones to play his best game of the season. While most of the pass routes in Oklahoma's offense are pre-determined, Jones will need to prove he can identify the defense quickly, move through progressions in a timely fashion and get rid of the ball fast once he determines who to throw to. To deal with the increased pressure he will face, Jones must keep his knees bent more while in pocket in order slide / move to avoid sacks and be able to re-set and make quick throws after doing so. Lastly, for Jones to be successful he will need to stride into throws more aggressively in order to get better zip and be more accurate on his throws. For Notre Dame, Manti Te'o will get the chance to shine once again in pass coverage as he will be called upon to cover a lot of ground in the middle of the field for their defense to handle Oklahoma's wide open passing attack. His ability to drop quickly, flip hips to adjust in coverage and close quickly to either make a play on the ball or a hard hit as ball arrives should enable Te'o to prove that he has legit Top 15 value.
Michigan State –vs- Wisconsin
Wisconsin C Travis Frederick* (6040 E, 338 E & 5.30 E) –vs-
Michigan State NT Anthony Rashad White (6020 E, 315 E & 5.10 E).
There are many bigger names battling in this game, like Wisconsin OT Ricky Wagner going against Michigan State DE William Gholston*, but this less publicized match-up will be closely watched by NFL scouts. Frederick has improved greatly after moving to center this season after battling inconsistency when playing guard in 2011. For a big, very thickly built lineman, Frederick is quick to set-up with good base, which helps him anchor vs powerful pass rushers. While he has the strength to get movement on in-line run blocks, Frederick is much more of a stand, grab and turn blocker than an aggressive, fire-off the ball drive blocker. What makes this such an interesting match-up is that White is not the type of defensive tackle who shoots gaps to make plays in the backfield, but rather he is more of a nose tackle who anchors vs run block to clog up the middle. White does an excellent job of playing with good pad level, "gets a good fit" on offensive linemen and has the playing strength to stand up and drive run blocker backwards into the backfield. While White is not likely to make more than two or three tackles, if he can play strong at the point of attack vs Frederick he could shut down Wisconsin's inside rushing attack and make it difficult for the Badgers to get their offense on track.
* Denotes Underclassman
Email Russ at Russelllande@yahoo.com and Follow Russ on Twitter @RUSSLANDE