November 08, 2012 -
National Football Post
Key Prospect Match-Ups This Weekend
Texas A&M –vs- Alabama
Texas A&M DE Damontre Moore (Junior) against Alabama OT D.J. Fluker (Junior)
Although they will not go head to head on every snap, scouts will be excited to see them when they do. Making an impact from everywhere he lines up, Moore's quickness off the ball enables him to gain positional advantage against pass blocker. Not only quick off the ball, but also possessing the agility to change directions fast and explosiveness to burst in the other direction, Moore can defeat pass blocker inside and around the corner. While Moore has shown the strength to be an effective power player, battling again Fluker will be an excellent test. Moore needs to prove to NFL teams that he can handle playing against the strong pass blocker in the NFL to prove he can play down as a defensive end in a 43 scheme as some view him as only a 34 outside linebacker prospect right now. Thickly built and powerful, Fluker's playing strength allows him to stop "bull rushers" in their tracks, to turn and seal his man out of the play on straight ahead run blocks and to collapse man down the line on side/angle blocks. For Fluker, his success in this matchup is vital because he needs to prove to NFL teams that he has the foot quickness and athleticism to handle playing left tackle at the NFL. Numerous scouts have told us they believe he has just adequate feet for a left tackle and will have to play on the right side, so he no doubt has a lot to prove. Both Moore and Fluker are juniors, so their performances could well shape if they choose to come out early for the 2013 NFL Draft.
Georgia –vs- Auburn
Georgia OLB Jarvis Jones (Junior) and Auburn DE Corey Lemonier (Junior)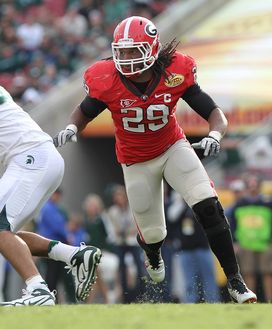 US PRESSWIREJarvis Jones attacks the play.

As both Jones and Lemonier play defense they obviously will not go up against each other, but you can be sure that NFL scouts will be watching this game closely to see how two of the better pass rushers in the country perform. Jones has been on the lips on nearly every scout I have spoken with as potentially the first defensive player drafted in the 2013 Draft. After a breakout 2011 season, Jones has been even better this year wreaking havoc on offenses. He not only has an explosive first step, but makes it look easy beating the offensive tackle around the corner. He also can change directions in a flash to beat tackle with fast secondary pass rush moves, both inside and outside. Lemonier is similarly athletic and is also a quick twitch athlete who can change directions fast and has an explosive burst to finish play. While he has not been as dominant as Jones this season, scouts feel that he is similar athletically and has the potential to be as good as Jones in time. This game will provide scouts a great chance to compare and contrast two of the best under-sized pass rushers in the country and also see how they handle playing the run. If Lemonier steps up and makes a bigger impact than Jones, he could put himself in position to be a top fifteen pick in the Draft.
Florida State –vs- Virginia Tech
Florida State QB E.J. Manuel (Senior) and Virginia Tech QB Logan Thomas (Junior)
When the 2012 season began nearly everyone expected Logan Thomas to have a great season and put himself in position to be a first round pick, while E.J. Manuel was not viewed as highly. However, this season Manuel has played at a significantly higher level and has many NFL scouts believing he will be a good NFL starter. While Manuel still needs to work on his footwork and tighten his delivery, he has shown the ability to be an accurate passer in the pocket and on the move. Similar to Thomas, Manuel has a big league arm to make all the NFL throws with zip and accuracy, but he is more ready and prepared to start in the NFL now than Thomas. Thomas' great size, athleticism, arm strength and clutch play throughout his first season as a full-time starter in 2011 had many comparing him to Cam Newton after Newton's great rookie season. As opposed to Manuel, Thomas' play has regressed in 2012 as his footwork and mechanics have not improved, which has led to accuracy issues. However, most concerning has been Thomas' decision making as he has forced a lot of passes this season that he never should have thrown, which has led to a number of interceptions and passes broken up. Overall, both Manuel and Thomas has the physical tools to be high end starters in the NFL, but scouts want to see where they both stand after seasons that have gone differently than expected.
Email Russ at Russelllande@yahoo.com and Follow Russ on Twitter @RUSSLANDE