December 19, 2011 -
Barry Dorey
LaMichael James vs. Lamar Miller
With more and more underclassmen thinking about declaring for the 2012 NFL Draft by the day, the NFP tries to keep pace by breaking down their games and projecting where they stand in regards to the rest of the class.

RB Lamar Miller: Miami (5-11, 212)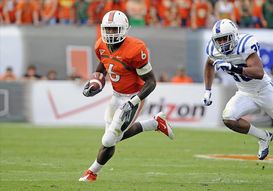 ICONMiller can outpace angles.
What I like…

- Possesses a "plus" first step when asked to press the hole.

- Reaches top end speed quickly when accelerating into the second level and has the initial burst to outpace an angle.

- Showcases natural patience/feel at the line of scrimmage. Possesses the vision to pick his way through tight areas and quickly see the cut back lane.

- Exhibits "plus" foot quickness laterally with the fluidity in the hips to cleanly work the cut back lane back across the grain, square his body and attack up field.

- In tight areas does a nice job widening his base, keeping his footwork under him and taking compact steps. This allows him to keep his balance when changing directions and accelerate quickly in and out of his breaks.

- Drops his pad level well when asked to finish runs. Sees a crease and does a nice job making himself small, churning his legs and finishing through contact.

- Possesses good straight-line speed once he gets into the open field, looks like a mid 4.4 guy.

- Is very natural working perimeter runs. Is patient letting his blocks set up on the edge, working the grain and sticking his foot in the ground when he needs to get up the field.

- Is fluid enough on the edge to accelerate around the corner.

- Showcases the natural power and pad level to run through tackles once he gets a defender off balance.

- Has been very productive during his two seasons playing for the Hurricanes, rushing for over 1,200 yards and 5.6-yards per carry as a sophomore.

- Doesn't have a ton of wear and tear on his legs, with only 335-carries during his college career.

- Can catch the football out of the backfield. Looks natural adjusting to the throw, maintaining balance and creating after the catch.


What I don't like…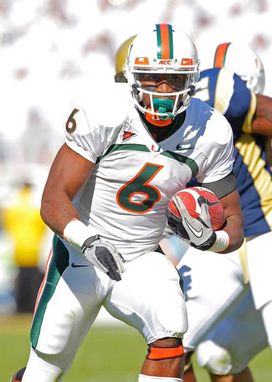 ICONMiller will run himself out of some yards.
- Lacks an overly thick base and despite his 6-0, 212-pound frame looks thinner through the legs and durability is a bit of a concern.

- Tends to get upright as a runner initially when asked to press the hole and once he gets into daylight. This limits his ability to break tackles consistently inside and/or make defenders miss.

- His overall running aggression will run hot/cold at times. Will get caught almost going through the motions at times and I don't always see the violence I expect from him as a runner.

- Tries to be overly patient at times tip toeing his way to/through the line of scrimmage. Takes his fair share of negative plays trying to allow blocks to set up and gets caught slowing his feet in the backfield.

- Has a tendency to get content running laterally too often trying to outpace defenders when he doesn't feel a hole quickly.

- Picks his way through tight areas well, but I don't see a "plus" "make you miss guy" inside as he tries to run away from defenders too often because of it.

- Is still developing in blitz pick-up. Doesn't stay real patient/balanced into contact, which causes him to get upright and either lack power at the point of whiff on the block all together.

Impression: Possesses a good first step, a natural feel between the tackles and exhibits the cut back ability to slice his way up the field. However, looks more like an ideal fit for a zone-blocking scheme because he isn't a guy who is going to make a ton of NFL defenders miss or break many tackles inside.

Grade: 6.9
Follow me on twitter: @WesBunting
To read about LaMichael James click to page two...