September 13, 2012 -
National Football Post
Lande's Week Three Match-ups To Watch
NOTRE DAME VS MICHIGAN STATE
Notre Dame ILB Manti Te'o (6010, 248 and 4.85) and TE Tyler Eifert (6060, 251 and 4.60) vs.
Michigan State ILB Max Bullough (6030, 252 and 4.75) and OLB Chris Norman (6010, 225 and 4.70).
This long time rivalry game offers NFL scouts the opportunity to see an excellent match-up as linebackers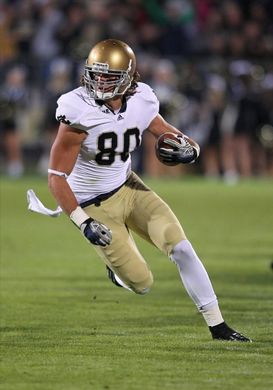 ICONNotre Dame's Tyler Eifert runs with the ball after the catch.
Bullough and Norman get the chance to cover tight end Eifert (He has been cleared to play after leaving the Purdue game with concussion symptoms). Receiving tight ends with Eifert's combination of quickness off the ball, sharp routes and outstanding hands make him ideal for today's NFL passing attacks. Linebackers who excel in coverage have increased value over the last decade and this game gives Bullough and Norman the chance to show that they have the athleticism and coverage skills to be productive covering NFL tight ends. Norman is not well known nationally, but NFL scouts are intrigued by his smooth and fluid movement skills, coverage instincts and the explosive burst to close and hit the receiver/tight end right after the ball arrives. He has also impressed with his ability to cover running backs on "wheel" routes and with his playing speed to consistently chase plays down in pursuit. In addition to watching Norman and Bullough try and cover Eifert, NFL scouts can compare two of the best inside linebackers in the country in Manti Te'o and Max Bullough. Bullough and Te'o are both strong, well-built linebackers with the strength to be a force at the point of attack against blockers and shocking speed chasing down plays in pursuit. However, their playing styles are different as Te'o is more of a smooth athlete who excels avoiding blocks to make plays, while Bullough physical and aggressive attacking the play and tends to go through blockers rather than around them. These two could very well end up being the first two inside linebackers drafted in April.

ALABAMA VS ARKANSAS
Arkansas WR Cobi Hamilton (6016, 198 and 4.52) vs. Alabama CB Dee Milliner (6010, 199 and 4.45).
Although Tyler Wilson has yet to receive clearance to play against Alabama, this game still features an excellent match-up between Arkansas receiver Hamilton and Alabama cornerback Milliner. With Alabama's stockpile of future NFL talent it is unlikely that Milliner will be matched up on Hamilton all the time, but I would expect that they will go head to head often. After Milliner played a dominant game against Michigan, effectively shutting down his man all game, he will get a real challenge trying to cover Hamilton who plays bigger and stronger than his measured size. Unlike many near 6'2 receivers, Hamilton can change directions easily and has a deceptive burst to get separation from coverage. He has the hands to make tough catches seem routine and is a strong runner after the catch who consistently gains yards after contact. Milliner's combination of excellent size at over 6'0, long arms, top end speed and good ball skills enable him to cover most receivers with surprising ease. A number of NFL scouts who attended the Michigan / Alabama game have told us that they feel Milliner has more talent than Dre' Kirkpatrick who was a first round pick in the 2012 NFL Draft, so his match-up with Hamilton is definitely one to watch.

MIAMI-OHIO VS BOISE STATE
Miami-Ohio QB Zac Dysert (6030, 220 and 4.85) vs.
Boise State cornerbacks Jerrell Gavins (5076, 169 and 4.44) and Jamar Taylor (5106, 191 and 4.42).
If Zac Dysert is going to make a move up draft boards then he will need to play well this week when he faces a top program like Boise State, whose two starting cornerbacks, Gavins and Taylor, are both highly regarded NFL prospects. Dysert is a strong armed quarterback who has consistently shown the ability to make every NFL throw with excellent velocity and accuracy. However, against Boise he will need to prove he can maintain his level of production when facing an opponent who pressures him consistently and has two outstanding cornerbacks. Both Gavins and Taylor are explosive cornerbacks who close on passes fast to make plays on the ball, which will require Dysert to be on with his timing and accuracy if Miami-Ohio is going to keep this game close. At less than 5'8, Gavins has to constantly prove himself, so this game also gives him the opportunity to show that again that he has the physical tools and coverage awareness/instincts to be a productive NFL cornerback despite his lack of ideal height.

Email Russ at Russelllande@yahoo.com and follow him on Twitter @RUSSLANDE