September 06, 2012 -
National Football Post
Lande's weekend matchups to watch
USC VS. SYRACUSE
- USC QB Matt Barkley, WRs Robert Woods & Marquise Lee VS. SU QB Ryan Nassib, WR Marcus Sales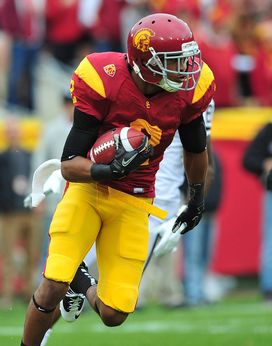 US PRESSWIREUSC WR Robert Woods.
With Syracuse having lost to Northwestern in its opening game there is not much national attention being paid to this game because USC is expected to win easily. However, you can be sure many NFL scouts will be in attendance and not just to see USC quarterback Matt Barkley, receivers Robert Woods (Who is expected to declare for the 2013 NFL Draft) and Marquise Lee (Even though he cannot enter the 2013 NFL Draft as a true sophomore). After Syracuse quarterback Ryan Nassib nearly led Syracuse to a great come from behind win when he played outstanding football in the second half, scouts are excited to take a closer look at him. Nassib displayed a stronger than expected arm and once he got warmed up he was quick and decisive with the ball, did not put the ball into bad spots and was very accurate throwing the ball. His display of poise and composure within the pocket showed up in the confidence he showed making big throws in key spots throughout the second half while leading the Orangemen back into the game. In addition, senior receiver Marcus Sales had a big game in his first game since 2010 after missing the 2011 season due to suspension. Nearly six feet, 5117, and 182 pounds give Sales enough size. Against Northwestern he looked quicker out of his breaks and faster running deep routes and after the catch than he did back in 2010. While neither Nassib nor Sales is expected to be drafted as highly as Barkley or Woods in 2013 or Lee in 2014, they both could really move up draft boards if they continue playing at the level they did against Northwestern, which is why I am excited to watch this game on Saturday.
CENTRAL FLORIDA VS. OHIO STATE
-UCF OG Theo Goins , C Jordan Rae VS. OSU DT Johnathan Hankins
Junior Johnathan Hankins has the rare combination of excellent height/length, great playing strength and the speed to chase plays down in pursuit. These traits are why NFL teams view him as a first round pick if he were to come out early for the 2013 NFL Draft. This weekend I will be interested to see how he fares against two senior interior offensive linemen for Central Florida. No one questions Hankins talent level, but he does not play with aggressiveness and intensity on every snap and must prove that he has changed as a junior and can play with better intensity on every snap if he wants to come out early and be draft high in the 2013 Draft. He will need to compete at a very high level on every snap because Goins and Rae consistently block from snap to whistle. At 6042 and 321, Goins definitely has the size NFL teams want in a guard, but center Rae is clearly under-sized at 6020 and 275 pounds. Goins came into the 2012 season viewed as a good, but not elite prospect so he needs to prove he can improve his hand use and play over his feet more consistently to handle Hankins if he is going to be drafted in the first three rounds. Unlike Goins, Rae has good technique, but at less than 280 pounds he will need to prove he at least has adequate strength to keep Hankins from impacting the play. If he struggles with his playing strength, Rae's draft stock could really fall.
NEW HAMPSHIRE VS. MINNESOTA
-New Hampshire DT Jared Smith VS. Minnesota's O-Line
In what will likely be a lopsided game, the bulk of scouts in attendance will be focused on defensive tackle Jared Smith from New Hampshire. At 6031, 298 and 4.97 in the 40, Smith has the measureables that NFL teams are looking for and this game will give him a chance to prove himself against FBS talent. Smith, who has been New Hampshire's best defensive linemen since his sophomore season, is a powerful player who has used his excellent hand-use, playing strength and athleticism to defeat blocks with ease to be a dominant force in the Colonial Athletic Association. While Minnesota does not have any senior offensive linemen that scouts are looking at, this game will still be a great test for Smith to prove he can handle playing against better linemen. Smith will need to prove that he can still play strong at the point of attack vs. bigger, stronger blockers. To do that he will need to play with good pad level and leverage and use his hands better to take on run blocks.
Follow me on Twitter: @RUSSLANDE