November 30, 2011 -
National Football Post
Landry Jones vs. Andrew Luck
QB Landry Jones: Oklahoma (6-4, 229)
What I like…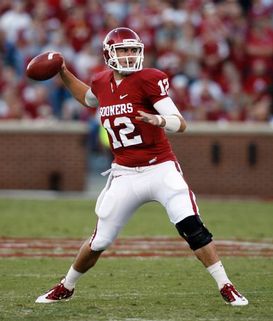 ICONWhen Jones keeps his base wide and balanced he can make all the throws.
- Has experience playing from both the gun and under center.
- Gets good initial depth on his drop, balances himself well and is comfortable off play action.
- Does a nice job pre-snap identifying his hot man and gets the ball out of his hands quickly.
- Showcases good rhythm and timing underneath, gets the ball out quickly with "plus" ball placement.
- Throws a very catchable football on all levels of the field. Is comfortable taking a little off the throw and dropping bucket throws into his receiver's hands down the field.
- When he does throw with a wide base from the pocket he can spin the football well in the intermediate pass game and stick throws on a line into tight windows with above-average accuracy.
- Possesses more than enough natural arm strength to make all the throws.
- Spreads the ball around well, doesn't play favorites and uses his full arsenal of weapons.
- Exhibits a consistent release point, gets the ball out quickly and is able to make all the throws needed over the line of scrimmage.
- Will locate a second target in the pass game.
- Possesses average foot coordination when trying to reset his feet and align his body when coming off an initial read and trying to find a secondary option.
- Has been very productive during his three years as a starter and has overcome the adversity to replacing a talent like Sam Bradford.
What I don't like…
- Is a limited athlete inside the pocket, has a tough time avoiding the rush with subtle movements and too often his eye level drops when he feels pressure.
- If you get him to move off his spot he doesn't look real natural buying time in the pocket and his accuracy suffers because of it.
- Rarely is asked to work the entire field, more of an initial read guy who will stick to one side of the field only when trying to find a secondary option.
- Can be a bit slow footed when he knows the football needs to come out. Will throw flat-footed and stand upright, taking away from his accuracy/velocity in the pocket when throwing down the field.
- Doesn't have a great feel throwing receivers open prior to them getting out of their breaks outside the numbers.
- Too often needs to see the throws before letting go of the football.
- Not the kind of athlete who can consistently square his shoulders up on the move, throws from some bad angles at times, which hurts accuracy and ability to deliver the football.
- Doesn't consistently reset his feet, widen his base and really stride toward his target, causing passes to hang on him at times.
- Strikes me as a fair weather quarterback who hasn't played his best on the road in tough situations/environments.
For the Andrew Luck breakdown and my final take click to page two...