April 06, 2011 -
National Football Post
Learning from my mistakes as a talent evaluator
One of the biggest fronts that is often put up by any talent evaluator at any level is the idea that since they are professionals, they're never wrong — which couldn't be further from the truth.
I have been evaluating college prospects for the NFL Draft since 2002 and since then I've made numerous mistakes in evaluating prospects' talents to the next level. However, instead of trying to hide them away, hoping no one will ever find them again, I like to embrace them, learn from them and try not to ever make the mistake again. In my view it's the only way I can personally get better.
Therefore, here is a look at some of my worst evaluations on NFL prospects since 2002, as well as what I took from each and how I apply it to my trade now.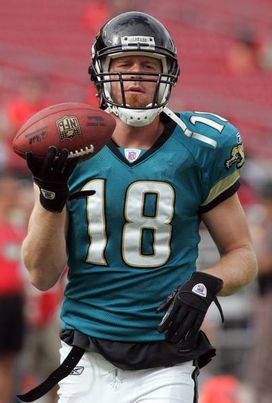 ICONJones will always struggle to separate in the NFL.
WR Matt Jones: Arkansas (2005)
The Combine effect kicked my butt on this evaluation. Jones was a 6-6, 242-pound kid and could run a sub 4.4. What else was there to know? He made big plays as a quarterback with the ball in his hands at Arkansas and would do the same thing in the NFL, right? Not quite. Looking back on tape of Jones, the guy is the definition of a strider. The further down the field he was asked to run the faster he got. However, when watching him try to change directions and get out of his breaks he was consistently forced to gear down and there was simply no burst whatsoever to his game.
Lesson learned: Don't fall for striders; need to see a burst/natural explosion when asked to change directions in order to separate. Also, be cautious with conversion players. Don't just assume they can make the change in positions, look for athletic attributes on tape that physically tell you they can do it.
QB Matt Ryan: Boston College (2008)
I had Ryan ranked as my top quarterback prospect in the 2008 NFL Draft, but he was not listed in my view as a top-15 pick. He possessed a pretty average arm and simply threw too many interceptions for my liking, and I instantly put the blinders on in all other areas of his game. My mistake was that I didn't give enough credit to how poor the talent was around him and how much he was consistently asked to do. The guy simply made everyone around him better. He was a worker, a grinder and won games for you on Monday, Tuesday and Wednesday because of his work ethic and film study. That's the kind of QB I want on my team now.
Lesson learned: Grading the quarterback position is much more than just grading the talent; take in all the factors throughout their entire college career (injuries, talent around them, coaching changes, etc).
DE Aaron Maybin: Penn State (2009)
I saw the great get off burst from Maybin off the line and was instantly blinded to any other faults. However, looking back on tape of Maybin there was no real counter to his game, no real change of direction skills and he was more of a one-trick pony whose sacks simply came easy in the Big Ten. Therefore, in my mind, since he was a good straight-line athlete, they would obviously come easy to him in the NFL as well. Not quite.
Lesson learned: 1. Be very careful with underclassmen, especially redshirt sophomores. Make sure you know their entire background, work ethic and passion for the game. Evaluating them is much more than just the talent. If they aren't mentally tough they will struggle with adversity, i.e. Aaron Maybin.
2. You need to be able to get after the quarterback in a variety of ways. NFL pass rushers need more than just a "fastball." Can they change directions? Can they counter and use their hands to disengage? Can they effectively work the bull rush? They need some kind of "changeup" in order to keep offensive tackles off balance.
OT Tony Ugoh: Arkansas (2007)
I had Ugoh ranked as my 3rd offensive tackle on the board in 2007, behind only Joe Thomas and Levi Brown. Ugoh was athletic, long armed and could bend. However, he was narrow framed and didn't have much natural functional football strength. I used to just assume offensive linemen could add weight and get stronger, but if they don't have the lower half to support it, it simply never will happen. And if you have a tackle who struggles with power, he's going to make every lineman he goes against look like a good pass rusher because they can consistently work the bull and take the shortest path to the quarterback.
Lesson learned: Lower body/anchor strength is key at offensive tackle and make sure the prospect really does have a naturally wide base to grow into if you note that he can improve his functional strength.
CB Stanford Routt: Houston (2005)
I let my own prejudices against taller corners get in the way of Routt's evaluation in 2005 and just let my eyes believe what my mind wanted it to once he ran his 4.27 at the NFL Combine. In my mind (only) he was a size/speed corner who lacked balance, was stiff hipped and would never be anything more than a journeyman corner at the next level who would keep getting second opportunities because of his size/speed numbers. However, looking back on tape with my eyes this time, Routt displayed good flexibility in his lower half, could turn and run and overall was just raw. And when I look into his background even more as a prospect, I learned he was a good kid, clean off the field and was a hard worker who had the ability to reach his upside, which I will say he has in the NFL.
Lesson learned: Don't let your prejudices or stereotypes of a player or position get in the way of grading the talent. See what the player can be, not what he is. Try to be farsighted looking long term, not short sighted.