November 04, 2010 -
National Football Post
Less than impressive
The NFP takes a look at which prospects have failed to live up to their high billing coming into the year as we break down our top senior strugglers from 2010.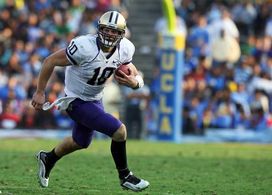 ICONLocker has really looked poor at times this season.
QB Jake Locker: Washington
Never mind the 3-5 record, the beatdown he took at home at the hands of Nebraska and the 56.1 completion percentage. The biggest reason why Locker is on this list is for the mere fact that I have simply not seen the type of growth from him yet to call him a blue-chip prospect. Overall, he's inconsistent with his accuracy from the pocket, doesn't decipher information real quickly and has yet to take that next step as a pocket passer. He's a gifted athlete who can win for you on the move and get outside the pocket, but he has yet to prove to me with his 2010 play that he's a guy who can lead an NFL franchise at the next level.
QB Christian Ponder: Florida State
It might be due to the fact that the guy has simply been banged up all season that has caused a lot of his struggles on the field, as Ponder looks like a different guy throwing the football this season. He doesn't display nearly the same amount of zip, passes tend to really hang on him and he has looked gun-shy for most of the season, taking off with his legs way too prematurely. He's a quarterback who needs to win with his head, because physically he lacks an elite skill set. But this season has not been the kind of effort many envisioned from him and he looks nothing more than a lower-end potential starter at this stage.
RB Evan Royster: Penn State
I still have to chuckle when thinking back to the beginning of the season and hearing from some that Royster was one of the nation's top running back prospects. First off, he's a Penn State product, which right away is a bit of a red flag when not only looking at the Nittany Lions' running back prospects but at their "higher end" prospects as well. Secondly, Royster is just a very average athlete who doesn't have any physical trait that really jumps out to you. He possesses decent balance and feel inside but has run for only 600 yards on the year and the coaching staff has limited his touches at times to try to get a more dynamic athlete onto the football. He looks nothing more than a fringe roster guy to me in the NFL.
WR Terrence Toliver: LSU
He doesn't catch the football with any kind of consistency, he isn't real shifty or physical off the line and lacks the burst to threaten defenders down the field. What else do you need to know?
OT Nate Solder: Colorado
As an athlete the guy is about as blue chip as it gets. He's 6-8, can run in the 4.9 range and has the type of physical skill set to certainly become a very good NFL-caliber left tackle. However, he isn't a real polished lineman at this stage when asked to reach pass rushers off the edge and isn't nearly as rangy on his kick slide as his athletic ability would indicate. Plus, he doesn't consistently take proper angles and can really be bullied at times vs. the bull rush. Again, physically the guy has all the tools, but his play has not been anywhere close to that skill set at times this season and he looks more like a high upside potential starter type prospect.
OL Orlando Franklin: Miami
Franklin is a tough guy to figure out when trying to forecast his play to the next level. Watching tape of him this year it's obvious that he doesn't have the type of athletic ability and overall range to handle speed off the edge vs. NFL right ends. However, when watching him last season as a guard against better competition, he really struggled to consistently anchor because of his 6-7 frame and overall inability to drop his pad level and play with much leverage. Therefore, the idea that this guy is one of the top offensive line prospects in the nation with the versatility to play either guard or tackle is a complete shocker to me. Nevertheless, he is a strong guy who has the ability to create some movement off the football in the run game when lined up on the outside. Therefore, in my view, he looks more like a right tackle only, but strikes me more as a reserve in the NFL than capable starter.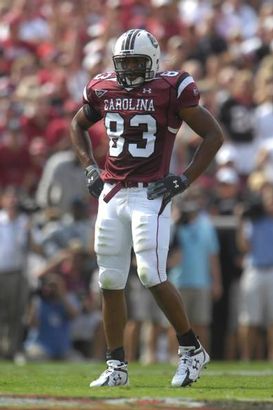 ICONMatthews has had a tough time getting after the passer all year.
DE Cliff Matthews: South Carolina
Matthews isn't the type of pass rusher who can consistently win with his first step and flatten out around the edge, and he isn't the type of bull rusher who can consistently overpower on contact. Therefore, last year he was at his best singled up one-on-one and was able to use his length and lateral quickness to work the up and under move and free himself from blocks inside. However, this year he hasn't been nearly as effective because in my opinion opposing tackles aren't respecting his ability to routinely get to the corner. And since he's not a real physical/impressive puncher he struggles to use his hands to disengage and has been held to only 3.5 sacks on the year. Not what you are looking for in a potential "big time" pass-rushing prospect.
DT Jerrell Powe: Ole Miss
Well if we have learned anything from Powe this season, it's that the guy is certainly not cut out to play the three-technique in the NFL. Powe has been brutal at times this year trying to beat blocks inside and create plays behind the backfield. Last year he was more effective as a push/pull nose who had the size and power to anchor vs. the run and could also overwhelm off the snap because of his power and above-average first step. This year he lost weight in the offseason in order to improve his burst/athleticism, but he still lacks ideal lateral agility on his pass rush, can be pushed around more so vs. the run and overall just struggles to find the ball. My take is that he can still be a solid two-down lineman for someone if he puts back on some weight, but this is not a top-tier prospect by any stretch in my mind. Plus the fact that he will be 24 come April doesn't help his cause either.
CB Brandon Hogan: West Virginia
Coming into the season I thought Hogan had the makings of becoming one of the nation's top senior cornerback prospects. He's a strong, physical kid who displays good fluidity when asked to turn and run, was tough to separate from on all areas of the field and would consistently tackle the football. However, after being suspended earlier in the year for a second arrest, Hogan's play on the field has suffered as well. He's still a talented athlete who is tough to separate from, but he has a tough time finding the football and lacks an ideal feel of when to get his head around and make a play on the throw. Overall, the skill set is there, but it's his character and lacking ball skills/awareness that has really caused me to fall out of love with Hogan this season.
NFL draft/college football questions? Get them answered at Wes.Bunting@nationalfootballpost.com
Follow me on Twitter: @WesBunting