November 17, 2011 -
Jay Clemons
Let's make a deal
Trade Deadline Rules To Live By
Welcome to the biggest 6-day frenzy of the fantasy season -- the precious 140-hour window before the Week 12 trade deadline ... which, for most people, occurs on Nov. 23 (Thanksgiving Eve). Simply put, this period could easily be the difference between making/missing the playoffs or winning/losing a league championship. Here are seven essential tenets for pre-deadline success:
1. Never approve a same-position deal (WR-for-WR, RB-for-RB, etc.), unless it's a blowout in your favor. Think about it: When Owner B offers you Steelers RB Rashard Mendenhall (2 TDs last week) for Titans RB Chris Johnson (284 total yards, 1 TD in his last two games) ... he/she is essentially sending this hidden message: Johnson will get more overall points than Mendy ... and since overall points are the only thing that matter in fantasy football, perhaps you'll be foolish enough to make the move. Even if you're slightly more confident that Mendenhall will post better finishing numbers than Johnson, what's your motivation for doing the deed? There's been no substantial roster upgrade, no viable handcuff opportunity in case of injury and the emotional connection to a highly coveted draftee from August would be lost. Plus, Johnson has the most fantasy-friendly schedule of any stud running back from Weeks 11-16 (@ ATL, vs. TB, @ BUF, vs. NO, @ IND, vs. JAX) ... which is probably why Owner B broached the deal in the first place.
If Owner B is truly serious about prying Johnson from your RB-heavy squad, subtly steer them in the direction of stud receivers like Calvin Johnson, Larry Fitzgerald, Greg Jennings, Mike Wallace or elite QBs Tom Brady, Drew Brees, Eli Manning. Be militant -- but diplomatic -- about this seemingly routine negotiation ... and you'll walk away richer from the experience.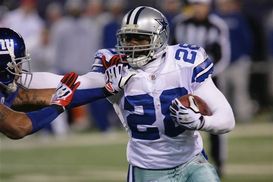 ICONFelix Jones is back, but in a supporting role.
2. Never surrender a full-time fantasy starter for a part-time starter ... unless it's for DeMarco Murray. I remain skeptical that Dallas will suddenly put Murray (601 rushing yards since Week 7) into an awkward timeshare with Felix Jones (ankle), justifying the old adage that a starter never loses his job to injury. Sure, Felix will get a few touches here and there, but the Cowboys' recent run of good luck (3-1) started when Murray humbly took center stage and electrified a once-stagnant offense with carries that often yielded chunks of yards at a time. No right-minded team, especially one that's currently outside the playoff picture, would turn its back on that type of all-world production ... just to satisfy a talented (but erratic) back who's returning from injury. Perhaps Murray will flame out next season, not unlike Jerome Harrison did with the Browns after a scorched-earth finish to 2009 (561 rushing yards, 5 TDs in three games); but right now, the Dallas coaches should feel obligated to blindly, brazenly ride Murray's hot streak as long as possible -- including through the playoffs. I'm sure QB Tony Romo (only three incompletions last week) wouldn't mind one bit.
3. Actively seek out the owner who's one player away from making the playoffs or winning a championship -- even if you're on the brink of a title, too. Short of having top-3-rated players at every position, fantasy GMs should NEVER stop trying to improve their playoff roster, particularly the starters; and sometimes, establishing a Cold War alliance with another superpower is the best avenue for shrewd wheeling-and-dealing. Appeal to Owner B's need to bolster their receiving corps with Calvin Johnson, Andre Johnson, Vincent Jackson, or how they simply can't reach the Fantasy Bowl without a QB upgrade from Josh Freeman, Ryan Fitzpatrick or Jay Cutler. Keep driving home the point that a win-win blockbuster trade will surely get both clubs to the Week 16 championship round ... and anything that happens after that is a matter of luck anyway. Bottom line: You don't have to like every owner in your league to make a great trade ... just respect 'em enough to create the opportunity.
4. Do your homework, dammit! I'm always chagrined with owners who pose lazy questions on Twitter like, Who should I trade Drew Brees for? or Which top-10 running back should I trade for down the stretch? These queries are usually the calling card of a fantasy owner who hasn't taken the time to look at their league rosters/standings ... as a means of figuring out:
1) Which playoff hopeful needs a quarterback for the final six weeks?
2) Which owner desperately needs a victory this week -- and cannot afford to be saddled with byes to Houston, Pittsburgh, New Orleans and Indy?
3) Is there a way I could block a title contender from making a momentum-changing trade?
4) Which owner requires a serious talent infusion -- courtesy of a 3-for-1 or 4-for-2 trade -- and can no longer afford to keep Aaron Rodgers, LeSean McCoy, Arian Foster or Calvin Johnson?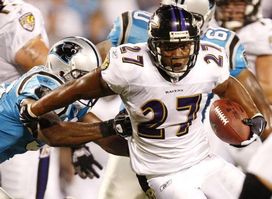 How much would Ray Rice fetch on the open market?
5. Be the instigator in trade talks. Let's pretend your 5-5 squad features Mike Wallace, Ray Rice, Cam Newton, Jimmy Graham, but little else, and the only way to make a serious run for the playoffs involves dealing a superstar. To maximize your return, try posting a short, sweet and non-specific message to every owner saying, "Rice, Wallace, Newton and Graham are available. Only serious offers will be considered before the deadline." As soon as two or three attractive offers come down the pipe (assuming the other owners care about their rosters), you're in position to play each participating owner against one another -- keeping them on the hook through personalized IMs or emails. What's the point of this dance? Divide and conquer. (duh)
6. There's nothing wrong with exploiting friendships to make mutually beneficial trades before the deadline. Ever hear of the "1-4 vs. 2-3 Method" for trading ... or The Big Schmooze? Simply put, this involves a 2-for-2 swap where Owner A gives up the best player (#1) and worst player (#4), while Owner B surrenders the second- and third-best players (#2, #3). In real terms, say I wanted to ship either Eli Manning/Matthew Stafford to a friend who needs an elite QB and has solid depth at receiver. I would simply give him/her one premium quarterback (Manning) and one respectable WR (Stevie Johnson) for one premium WR with slightly less value than Eli (Brandon Marshall) and one solid emergency starter at QB (Matt Ryan). The result: A win-win trade for both parties, satisfying two weaknesses. (Note: The 1-4 vs. 2-3 Method works for any positional trade combination -- just make sure Owner A is clearly forsaking the best and worst players in the swap.)
7. Always be willing to sacrifice talent on the bench for a proven star. In the SI.com & Friends league, where I'm knee-deep in high-quality running backs (LeSean McCoy, Chris Johnson, Ryan Mathews, Michael Bush, Mark Ingram) and possess strong receivers (Marshall, Dwayne Bowe, Brandon Lloyd, Laurent Robinson, Michael Crabtree), I am fully committed to the notion of giving up Bush, Mathews, Bowe and Crabtree for Ray Rice, Arian Foster OR Adrian Peterson -- as part of a 4-for-1 megadeal. The message here: The blockbuster deal is a moral imperative at the trade deadline ... because, as we all know, bench depth means jack squat once the playoffs begin.
Week 11: QB Locks For 275 Yards and/or 3 TDs
1. Aaron Rodgers vs. Tampa Bay
2. Eli Manning vs. Philadelphia
3. Cam Newton @ Detroit
4. Tom Brady vs. Kansas City
5. Carson Palmer @ Minnesota
6. Philip Rivers @ Chicago
7. Matthew Stafford vs. Carolina
RB Locks For 120 Total Yards and/or 2 TDs
1. Ray Rice vs. Cincinnati
2. Adrian Peterson vs. Oakland
3. DeMarco Murray @ Washington
4. Chris Johnson @ Atlanta
5. Maurice Jones-Drew @ Cleveland
6. Michael Bush @ Minnesota
7. Steven Jackson vs. Seattle
8. Matt Forte vs. San Diego
9. LeSean McCoy @ N.Y. Giants
10. Marshawn Lynch @ St. Louis
11. Shonn Greene @ Denver
Head over to page 2 for more!