April 26, 2012 -
National Football Post
Luck vs. Griffin III
Breaking down the potential scenarios for Colts QB Andrew Luck and Redskins QB Robert Griffin III at the next level.
Best-case scenario…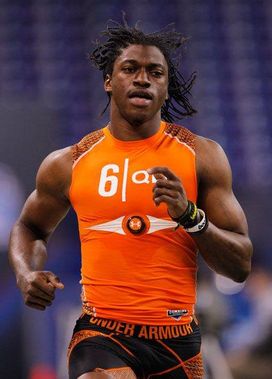 Griffin III can attack defenses from a number of spots.
Because of Griffin's unique combination of athleticism and touch outside the pocket, he makes for a seamless transition to the Redskins boot-action offense. He quickly matures into a threat with both his legs and his arm outside the pocket and is able to put consistent stress on opposing defenses because of his abilities to threaten the edge and get over the top vertically.
He also takes to the coaching quickly and matures from under center. And he offers the threat to consistently create big plays with his feet when plays break down.
Griffin exhibits the natural leadership capabilities and work rate to mature quickly in Mike Shanahan's offense and gives the Redskins the type of dual run-pass threat with the knack for hitting the big play.
Worst-case scenario…
Learning to handle the nuances of working from under center becomes more of an initial burden than originally thought. Griffin struggles with his footwork, timing and accuracy in the three and five step game and doesn't showcase the kind of natural athleticism in the pocket he possesses because of struggles with pocket awareness and over-thinking plays.
He's still a threat when asked to boot-action away from the line of scrimmage, but opposing defenses are consistently set up to take away the big plays, causing him to force the issue routinely.
Prediction of future career…
When judging a talent like Griffin III, in my mind you can't judge him on his completion percentage or QB rating. He's a guy who needs to be judged on his ability to create big plays. I don't think Griffin III is going to be a career 60 percent-plus completion percentage guy as I think he will always have some struggles working from under center.
However, the guy has the ability to create second lives in the pocket, kill defenses outside the numbers with both his arm and legs and should be able to make the Redskins competitive as a consistent playoff contender by year three, earning a couple Pro Bowls along the way and ranking as a top 10 to top 15 QB in the NFL.
CONTINUE TO PAGE 2 FOR THE LUCK BREAKDOWN