December 22, 2010 -
National Football Post
MAACO Bowl Las Vegas preview
A breakdown of some of the top prospects from two of the top mid-major programs in the nation as Boise State squares off with Utah tonight in the MAACO Bowl Las Vegas…
Who to watch for….
Boise State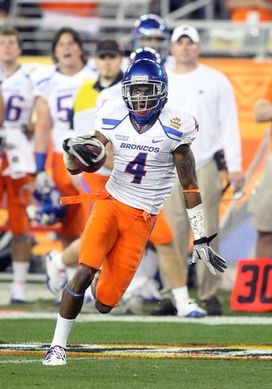 ICONYoung has the deep speed to consistently get behind defenders.
WR Titus Young: No. 1 (6-0, 170)
A thinly put together wideout who lacks ideal girth and muscle tone through both his upper and lower body. However, he's very fluid through his hips and exhibits impressive natural explosion off the line. Consistently eats up the cushion quickly and is one of the few receivers I have seen who really strikes fear into opposing defenders as a vertical threat. Possesses a real second gear down the field and is a consistent big-play guy. Displays good shiftiness off the line of scrimmage as well. Does a nice job quickly beating press with his lateral quickness and a sudden arm over and separating from his man. Is also a pretty gifted and balanced route runner, even when at top speed. Consistently is able to gain significant separation out of his sharply breaking routes and does a nice job staying low and driving back toward the football.
Now, he is undersized and can be pushed around down the field vs. more physical corners and will struggle to fight his way toward the football. He's also very explosive and sudden after the catch, but too often lets the ball get into his frame and isn't the most consistent of pluckers at this stage.
Impression: Reminds me a lot of Chicago wideout Johnny Knox from an athletic standpoint, but is more polished at this stage and could end up having a nice career as an explosive downfield threat.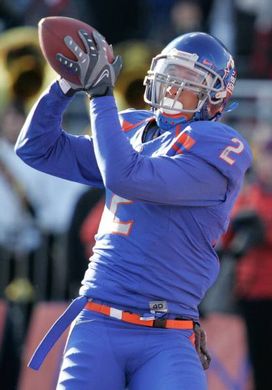 ICONPettis is a perfect complement to Young on the outside.
WR Austin Pettis: No. 2 (6-3, 201)
A tall, long-armed wideout with a decent-sized frame but still possesses some growth potential to fill out physically. Displays a strong set of hands and does a nice job setting up defenders as a route runner, changing gears and going up to secure the catch. Is at his best working the middle of the field and using his long frame to box out corners once he gains a step and come down with the tough grab. Possesses a very average first step off the line and isn't a guy who has the type of second gear to consistently run by defenders at the next level. Lacks an ideal burst in and out of his breaks as well. Will struggle to consistently generate significant separation from man coverage and relies more so on his initial quickness and big frame to create plays for himself. Also, doesn't consistently get off pressman initially off the snap, isn't real sudden in tight areas and doesn't display the type of physicality to routinely shrug off the initial bump.
Displays good overall body control and balance as a route runner, but gets a bit impatient at times and will begin to drift into his routes prematurely. However, has a good feel vs. zone, knows how to set up defenders using his head fake and balanced footwork and does a nice job working his way open on all levels of the field. Can be difficult to bring down after the catch. Isn't real shifty, but plays big and can shrug off defenders initially and get up the field after the catch. Also, can play a key role on special teams, has a knack for getting after the football on punt blocks and acts as a holder on field goals.
Impression: Possesses a nice-sized frame, good body control and ball skills and knows how to work the middle of the field. Isn't a real dynamic threat, but has enough talent to make a roster and contribute on an offense, possibly as a number two threat, but I see him more as a sub package guy.
SS Jeron Johnson: No. 23 (5-10, 195)
Lacks great size but plays with reckless abandon for his body. Loves to throw himself around as a tackler and generates pretty good pop at the point of attack. Reads and reacts quickly to his run/pass keys and does a great job attacking downhill, sniffing out the football and putting himself in position to make plays at the line of scrimmage. However, he isn't the most sound of wrap-up guys; at times is more of a striker. Can get away with it in college, but I don't think he has the kind of dominant overall pop to get away with it in the pros.
Isn't a real impressive athlete in the pass game. Despite his size, lacks ideal explosion and range in the deep half of the field. Gets good jumps on the football when he is able to keep his eyes on the backfield and overall is a pretty instinctive player, but when forced to quickly cover ground in the centerfield type role, lacks the range needed to be real effective. Also, is a bit leggy and tight in his drop, which takes away from his initial first step in and out of his breaks. Doesn't get up to top-end speed quickly and seems to have only one gear to his game.
Impression: Lacks ideal size/speed numbers, but his instincts, passion and willingness to throw his body around and be physical will give him a chance. He's a bit limited in what he can offer you athletically and won't be able to hold up in man coverage, but is the kind of guy you don't want to bet against making a roster as a reserve safety. Could carve out a niche on special teams.
CB Brandyn Thompson: No. 13 (5-10, 180)
A thin corner who possesses decent height but lacks ideal physicality to his game. Lacks flexibility in his drop as well and allows his pad level to remain too high, which causes him to take additional steps when asked to click and close. Has a tough time cleanly getting after the football, is a bit stiff through the hips and lacks ideal awareness in man coverage. Has a tendency to begin to open his hips prematurely and has a tough time remaining balanced and cleanly redirecting when asked to change directions. However, he does display good speed vertically down the field, but is a bit high out of his transition and it takes him a couple steps to reach top-end speed. Has a tough time finding the football once he gets his head around and seems to locate the throw late. But, does display good ball skills and body control and routinely is able to get his hand on the football to break on the play when in position.
Needs to do a better job taking proper angles toward his man after a completion. Showcases some fight as a tackler in the run game and does a nice job breaking down and keeping his legs under him when asked to tackle, but isn't nearly as impressive or balanced after the catch in the pass game.
Impression: Possesses good straight-line speed, but is raw with his footwork and isn't a guy who is fluid enough to play in the slot. Will have a tough him making an NFL roster.
Others worth noting…
OLB/SS Winston Venable: No. 17 (5-10, 213)
DE Ryan Winterswyk: No. 98 (6-4, 268)
RB Jeremy Avery: No. 27 (5-9, 172)
Utah
OC Zane Taylor: No. 77 (6-2, 300)
A shorter, stout center prospect who possesses natural flexibility in his lower half and does a nice job sitting into his stance off the ball. Possesses quick snap and step ability in the run game, quickly getting into defenders off his frame, extending his arms and gaining inside leverage with his hands. Looks comfortabl e sitting into his stance through the play, working his feet and sealing opposing linemen from the football inside. Isn't a guy who can consistently drive opposing linemen off the football, but understands angles, works hard inside and can seal to create seams. Possesses only average range on the move to the second level. Has the ability to pull and reach his target, but lacks ideal body control through the play. Will get a piece of his man, but isn't a guy who can break down and seal consistently at the second level.
Lacks ideal initial burst off the football in the pass game and struggles to consistently reach explosive defenders off his frame who are looking to shoot gaps and get up the field. However, has the ability to sit into his stance and anchor on contact vs. the bull rush. Is a flexible, balanced pass blocker who can shuffle his feet with ease and is tough to disengage from once he gets his hands on you. Isn't real long armed, but has a quick, compact punch off the ball. Doesn't really jar on contact, but showcases good hand usage, can routinely gain inside leverage and reworks his hands through the play in order to maintain the advantage. Works very well in tandem with his guards and has the awareness to pass off defenders and keep the inside of the pocket clean.
Impression: Isn't the most athletic of guys, but works hard, knows how to work his hands and plays with good leverage in both the run and pass game. He understands angles in the run game, can anchor and slide vs. the pass and could end up fighting for playing time with some experience in the league, but looks better suited as a reserve.
CB Brandon Burton: No. 27 (6-0, 185)
A tall, lean cornerback who possesses good overall length for the position. Is at his best when asked to play up near the line in press coverage. However, can be inconsistent with his hands. Has a tendency to play press bail and doesn't do a real consistent job extending his arms and getting a good bump on receivers. Nevertheless, he's comfortable in his drop, stays patient with his turn, is fluid when asked to turn and run and possesses the speed to quickly get down the field. Runs very well for his size and is very difficult to get behind. Looks comfortable when asked to play on an island, does a nice job getting his head around, locating the football and going up in jump ball situations. Is a gifted leaper who maximizes his length with good timing and balance, and is tough to complete passes on in fade situations. Is also very effective in zone. Showcases good footwork and balance when asked to click and close on passes underneath. Is a willing tackler who will stick his head in, wraps well on the play and also does a nice job tackling after the catch, showcasing good initial burst out of his breaks.
However, isn't quite as impressive in off man when asked to sit into his drop and cleanly get out of his breaks. Possesses natural athleticism, but will allow his pad level to rise and footwork to get too narrow causing him to overextend in order to get out of his breaks. Is a step slower getting after the football or when asked to turn and run and has a tendency to allow receivers to get behind him much more easily. Also, can be overwhelmed in the run game by bigger, more physical receivers, possesses a thin build and can be knocked backward and off the football.
Impression: A tall, lanky corner with good ball skills, fluidity and closing speed underneath. Needs to tighten up his drop and footwork in off coverage, but is the kind of guy who can come in and play early in his NFL career and mature into a very solid NFL starter in either a predominantly press man or zone scheme.
Others worth noting…
RB Eddie Wide: No. 36 (5-10, 195)
OG Caleb Schlauderaff: No. 72 (6-4, 300)
RB Matt Asiata: No. 4 (5-11, 225)
Follow me on twitter: @WesBunting</p>