February 09, 2011 -
National Football Post
Making moves in Mobile
Editor's note: Mason Foster is a 6-1, 241-pound senior linebacker from the University of Washington who will be keeping a running journal for the National Football Post as he prepares for April's draft. This is his second entry.
I recently returned from the Senior Bowl, which turned out to be one of the best experiences of my life. I left for Mobile on Saturday, January 22, and while I couldn't have been more excited for the opportunity to play against the best of the best, I have to admit, I was also a little nervous. We've had scouts at our Washington practices before, but at the Senior Bowl, general managers, coaches and scouts from every NFL team are evaluating every move you make, on and off the field. It's a lot of pressure, but that's something I welcome.
The first part of the evaluation was the weigh-in, which consists of the players being marched up on stage in nothing but our underwear. I checked in at 6-1, 241, which I was happy with. We had team meetings in the mornings, and then we were off to practice. I was on the North roster coached by the staff from the Cincinnati Bengals. What an experience! I had the opportunity to learn from Coach Lewis, Coach Zimmer, and Coach Fitzgerald. The practices were high energy and up-tempo.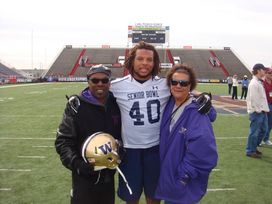 Mason with his parents at Ladd Peebles Stadium.
The biggest difference between Senior Bowl practices and college practices was the attention to detail and focus on technique. For example, one thing I worked on with Coach Fitzgerald was keeping my inside foot strong when I get my hands on a blocker. By keeping that foot strong, it's easier to push the blocker up-field and disrupt the play. Another thing we worked on was communication. The coaches always wanted us talking before, during and after the play. We had to make sure that we worked together as a unit to recognize tendencies and to make adjustments to what the offense was doing.
We spent most a good portion of our evenings interviewing with teams. You hear stories about crazy interview questions, but none of mine were really like that. I probably met with someone from all 32 teams and they just seemed to want to get to know me. They already know what kind of player I am from my film and the interviews seemed to be them trying to see what kind of a person I was. It was pretty cool seeing all the head coaches and general managers around all the time and I even had the opportunity to sit down with the GM from a couple of NFC teams and one from an AFC team, as well as a few head coaches and linebacker coaches. It really hits you for the first time that you're about to play in the NFL!
We didn't have much free time until the final night, when my family and I hung out with my old teammate Jake Locker and his family. I did get to know some of the other players real well since we spent so much time together in meetings and at practice. No one else can really understand the mix of excitement, pressure and competition we are going through and I think that helped us all bond together. I got real tight with all the 'backers on the North. Mark Herzlich (Boston College) is an incredible person, Greg Jones (Michigan State) and Ross Homan (Ohio State) were good guys and I roomed with Lawrence Wilson (UCONN). I would say that I bonded the most though with Casey Matthews (Oregon). We are both Pac-10 guys, so we were flying that flag together and we were familiar with each other from playing in the conference.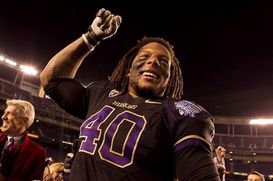 One thing that's a little weird is that while you're bonding with your teammates, you're also constantly competing with them to prove you're better. We all know that the reason we're at the game is to prove we're the best and while we're rooting for each other, I also knew that every time one of my teammates made a play, I had to go out and make a better one.
Everyone asks me who the top players were in Mobile and honestly, everyone was as good as advertised. The offensive line on our team was great and Kendall Hunter (RB, Oklahoma State) impressed me a lot during practice. During the game, Christian Ponder (QB, Florida State) obviously played well and I was impressed with guys like Leonard Hankerson (WR, Miami) and Derrick Locke (RB, Kentucky).
I feel lucky to have had the chance to play in the Senior Bowl. I think I improved my game all around from the great coaching and competition and based on what my agent told me he heard from NFL teams down there, I really helped my draft status. I felt like I did. Sometimes up in Washington (especially when we weren't winning) I felt like I got overlooked, but this week there was nowhere for anyone to hide. I had my chance to go up against the best players in the country and I think I proved that I'm one of the best linebackers in this year's draft. I had a good week of practice and I led all defenders in the game with eight tackles. I'm proud of how I performed, but now it's back to work. I only have 24 more days to get ready for the Combine and I'm not going to let anyone outwork me!
-Mason
CLICK HERE to check out Mason's first journal entry.
CLICK HERE to check out Mason's facebook fan page.
CLICK HERE to check out Mason's website.
Follow Mason on Twitter: @Mason_Foster