March 29, 2013 -
Erik Oehler
March 29th – Pro Day Review
NFL personnel are nearing the end of the Pro Day schedule traveling around the country working out prospects. As there are so many Pro Days across the country, we cannot be everywhere at once, so we rely upon a network of NFL sources that we built during our time working for the Rams and Browns. Below is a breakdown of what I was told by different NFL sources at the LSU, BYU and Souteast Louisiana Pro Days:
1. LSU: Barkevious Mingo, DE/OLB; Sam Montgomery, DE; Bennie Logan, DT; Eric Reid, SAF; Kevin Minter, MLB; Tharold Simon, CB and Lavar Edwards, DE: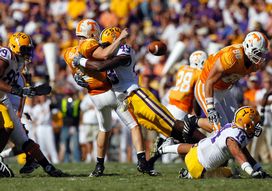 US PRESSWIRELSU's Barkevious Mingo crushes Tennessee QB Tyler Bray.
In a draft heavy with pass rushers, Barkevious Mingo made a statement at his Pro Day that he warrants consideration as the best 34 OLB prospect. Weighing in in the mid 230's, Mingo's weight will definitely be an issue for those teams that are looking at him as a 43 DE. However, his show of elite explosive athleticism has many 34 teams excited. He displayed excellent foot quickness, agility and flexibility throughout linebacker drills. Mingo was smooth and fluid changing directions, displaying the loose hips to flip and change directions with remarkable ease. The LSU Pro Day was stock full of NFL talent and Mingo worked out as well as any other player and looked so quick and agile in drills that you would have thought he was a defensive back if you did not know any better. After his performance my sources at the workout said they would be shocked if he is not drafted by the 15th pick in the first round.
While Mingo may have had the best workout, safety Eric Reid just missed beating him out as he was outstanding according to sources in attendance. For a player that many have been criticizing as not a good enough athlete to be effective covering slot receivers and in deep coverage, this workout definitely put those concerns to bed. He showed that he has great agility and coordination to change directions fast, the burst of acceleration to get to full speed fast and the elite speed to run with any slot receiver on deep routes. In addition to possessing elite athleticism, Reid is viewed as a high character kid with the type of intangibles that NFL teams love. Sources at the workout told us that the LSU people rave about what an incredible young man Reid is and that whatever teams draft him is going to love character, work ethic and passion for the game.
Although Sam Montgomery is unlikely to be drafted in the first round, he had a good, solid workout. Muscular and well built, Montgomery looked the part "on the hoof" of an NFL 43 defensive end. Being put through a hard workout, he showed that he is in very good shape by not wearing down and competing hard throughout. He showed good quickness and overall athleticism for a 43 defensive end, but looked a little stiff to consider as an outside linebacker in a 34 scheme. After this workout and Montgomery's play in 2012, he will likely be a second or third round pick.
Backup defensive end Lamar Edwards may not have the statistical production of Mingo or Montgomery, but during the Pro Day he showed that he is not behind them both in terms of athleticism. He consistently showed explosive initial quickness, very good speed and the athleticism to change directions fast that starting defensive ends in the NFL possess. Despite his athletic showing, teams still have concerns about his awareness/instincts as he often seemed a bit late reacting to things during the positional drills. I do not expect Edwards to be a high draft pick, but with his athleticism and NFL teams being so desperate to find good pass rushers, he will likely be a third or fourth round selection.
Unlike their other defensive linemen, defensive tackle Bennie Logan did not have a stand out Pro Day. He looked better athletically than he had at the Combine, but still did not show the explosive quickness that NFL teams want. He is a high-cut kid who cannot change directions quickly and has trouble moving through traffic because he struggles to protect his long legs. Sources at the workout told me that after watching film and seeing him workout he is really a nose tackle / 2-Gap only type player as he lacks the burst to shoot gaps and does not shed quickly enough to defeat blocks and make tackles. He will likely be a third day draft pick.
While much of the attention this week was focused on how fast another inside linebacker in South Bend ran his 40 and worked out, Kevin Minter needed to improve in both of those areas also after a disappointing combine. He did just that by running about .10 faster in the 40 and showed better flexibility and agility during the positional workout. As opposed to his combine workout where he looked stiff and choppy in drills, Minter was smooth and able to change directions easily, although he was not quick or explosive doing so. Teams came away feeling much more confident that Minter can be a solid, workmanlike starting middle/inside linebacker in the NFL and is worthy of a second or third round selection.
When cornerback Tharold Simon declared for the Draft many expected he would work out well this spring to put himself in position to be a second or third round pick. However, things have not gone as planned. While Simon ran extremely well for a tall cornerback by running in the high 4.4's, the rest of his workout was not up to par. He was stiff in positional drills, struggled changing directions and actually fell down a few times. His pedal was decent for a tall cornerback, but he struggled to transition and close out of it fast. Not only did he have struggles changing directions and athletically, but his ball skills were not good as he looked bad tracking passes and dropped some balls. As things stand now, we were told that Simon will likely be a fourth or fifth round pick.
2. BYU: Ezekiel Ansah, DE: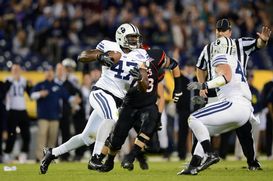 US PRESSWIREBYU's Ezekiel Ansah returns interception.
For a player who is expected to be a top ten pick, our sources at BYU's workout were surprised that only two defensive line coaches and two directors were present. It was clear that Ansah looks the part as he looked ripped up and muscular in his workout gear. However, he seemed to not be in the best of shape as he tired quickly during the defensive line workout, seemed to wear out and struggled to go full speed throughout. To be fair, the workout he was put through by the Oakland Raiders defensive line coach was a grueling one and definitely asked Ansah to maintain a high level of intensity for a long time. In the defensive line drills it was clear that Ansah is a very quick athlete who is remarkably smooth for such a big man and changes directions with ease. Amazingly, for a player that many 34 teams view as an outside linebacker prospect, Ansah was not put through any linebacker drills. In the end, Ansah's workout was not special, b ut he is still likely to be a top ten pick because big men with his physical talent and great intangibles are nearly impossible to find.
3. Southeast Louisiana: Robert Alford, CB:
A player who has sort of slid under the radar this spring, Alford had an excellent workout at his Pro Day and cemented his status as one of the most athletic cornerbacks in the Draft. He proved that he has the rare explosive athletic traits that few cornerbacks do. He looked quick and agile transitioning and changing directions and showed an explosive closing burst throughout the workout. Sources watching the workout said Alford looked like a starting NFL cornerback and should earn a starting job early in his career. The only area of concern during his workout was his instincts as he seemed to be late reacting to things a few times. At the end of the day, Alford will almost assuredly be a second round pick because of his production at SELA, competitiveness and rare athleticism.
Email Russ at Russelllande@yahoo.com and Follow Russ on Twitter @RUSSLANDE