March 24, 2011 -
National Football Post
Maryland ILB Alex Wujciak is an intriguing 3-4 sleeper
The one question I keep getting from readers this draft season is… Who are the best 3-4 inside linebackers in the draft class?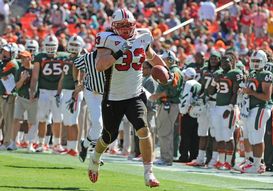 ICONWujciak is at his best playing in a phone booth, not in space.
And before answering that, you have to first consider what kind of 3-4 ILB do you want? Is your team looking for a "mike" or sometimes called a "will" (depending on one the language of the scheme), which is the playmaker inside who flows more freely to the football and makes plays inside (Ray Lewis)?
Or is your team looking for a "jack" linebacker? A guy who typically plays on the strong side, is willing to take on interior linemen at the point of attack, can anchor on contact and keeps the ILB next to him clean (Bart Scott).
Well, if your 34 front is in need of a big "jack backer" inside, look no further than Maryland's Alex Wujciak who at nearly 6-3 and 250-pounds ran in the high 4.7-low 4.8 range at the Terrapins pro day this past week and seems to have put himself into the mix as an intriguing late round guy.
Based off tape I wouldn't say Wujciak is a real gifted athlete. He's a stiffer hipped kid who lacks ideal range in pursuit and really lumbers in space. However, what he is, is a football player. Tough, instinctive, hard-nosed and is always around the action. He displays the ability to consistently take on blocks at the point of attack, has a strong anchor and can fill run lanes on contact.
Plus, he's a smart kid, has a real passion for the game and is your typical leader/overachiever/team captain who will be willing to play special teams and do whatever is needed in order to get onto the field. I gave him a draftable grade following the season, but deep down I thought he would likely have to go the free agent route.
However, after verifying that he does have some range in pursuit, I think if you put this guy in the right kind of scheme as a 34 "jack backer", let him do the dirty work inside and make everyone's life around him easier, he has the making of fighting for some playing time down the line as a solid two down option.