December 08, 2011 -
Jay Clemons
Matters of survival
Playoff Rules To Live By
1. When in doubt (or all things being equal), always flex a running back in standard-scoring leagues ... and receiver in Points Per Reception leagues. This rule is pretty simple: It's best to play the percentages when stuck in a quandary at the flex spot. For standard leagues, I'd rather have Chargers RB Ryan Mathews over Dolphins WR Brandon Marshall -- since Mathews (8 games of 100-plus total yards in 2011) will likely see more touches in Week 14. On the flip side, Marshall's probably a lock for 6-7 catches against the Eagles and could notch a few points higher than Mathews (just 2.25 catches in his last 4 games) in PPRs. We're talking delicate strategies here ... but ones that mathematically make sense.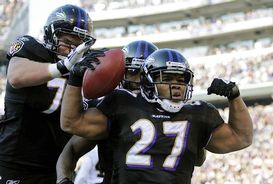 Stick with the studs that got you to this point.
2. Ride your studs for Weeks 14-16. Round 1 of the playoffs is NOT a time for overthinking. Unless your star is severely limited by an injury ... owners should assume the players will bring their typical A-games to the weekend party. The best example of this is LeSean McCoy: Prior to Eagles-Seahawks last Thursday, the NFL Network's Stacey Dales unwittingly sounded the fantasy siren by reporting that McCoy, gingerly running on a sore toe during warmups, wasn't sure how long he could go for Philly (then 4-7). Well, after one quarter of hit-or-miss execution, McCoy ran wild in the final three quarters and finished with 133 total yards and two touchdowns. There's a reason why he's the top-ranked non-quarterback ... just remember to keep the faith, regardless of what the NFL Injury Report entails.
3. R-E-S-P-E-C-T cold, blustery weather when choosing a starting QB. I don't want to psych anyone out here ... this is merely another friendly reminder that bitter-cold temperatures and stifling crosswinds can be a fresh hell for quarterbacks in the Northeast or cities such as Green Bay, Denver and Kansas City. So, be sure to bone up on NFLweather.com before cementing your lineups for Thursday, Sunday and Monday. Obviously, you're NOT going to bench a stud QB like Aaron Rodgers, Tom Brady, Drew Brees, Matthew Stafford or Eli Manning in anything short of gale-force winds or 10 inches of snow ... but fantasy GMs should also be weary of blindly giving starts to non-elite QBs (like Andy Dalton, Tim Tebow, Mark Sanchez, Colt McCoy, Dan Orlovsky) -- who may face uncomfortable weather conditions on Sunday.
4. Don't sweat the small stuff, like kickers and defenses. It's real simple here: If you have a top-10 kicker, don't mess with success. And if you have a top-10 defense or one that gets to play Kansas City, Cleveland, Indianapolis, St. Louis or Jacksonville in Weeks 14, 15 and 16 ... therein lies the key to playoff success!
5. Use 'Targets' when stuck on pass-catchers for your starting lineup.There's a reason why we focus on targets for wide receivers, running backs and tight ends in just about every Philanthropist article (including today's). Players who see the ball 30-to-40 percent more than their peers are more likely to experience success on a given Sunday ... and that peace of mind goes a long way toward maximizing your playoff points. Of course, it's not a foolproof plan. Prior to Week 13, Rams WR Brandon Lloyd was the NFL's runaway leader in targets from Weeks 8-12 ... and yet, he only caught backup QB A.J. Feeley's eye twice in a pitiful shutout loss to the 49ers. (Rumor has it that St. Louis only crossed the 50-yard line once in the game.) But for the most part, a receiver who's enjoying consistent success ... tends to remain hot from week to week. Unless A.J. Feeley is directing that offense.
6. Start all productive players from the Cowboys, Lions, Chargers, Vikings, Bills and Giants this weekend. The scheduling gods sometimes smile on fantasyland ... and when that happens, act accordingly. For all-important Week 14, you probably can't go wrong with starting regulars from Giants-Cowboys, Vikings-Lions and even Bills-Chargers -- a game where QBs Ryan Fitzpatrick and Philip Rivers won't incur any weather-related obstacles ... and the playmakers from this non-playoff-contending showdown should have ample motivation to let it all hang out on Sunday afternoon. Simply put, Buffalo vs. San Diego could be the highest-scoring game of the week.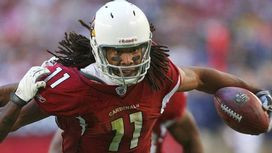 The Philanthropist demands that you ride with Larry Fitzgerald in Week 14.
7. DO NOT bench Larry Fitzgerald. Yes, San Francisco boasts perhaps the NFL's stingiest defense, but plucky Arizona is catching the NFC West champions at an ideal time. Think of it: All-pro linebacker Patrick Willis (hamstring) will likely miss the trip to the desert. The 49ers (10-2, 8-1 in-conference) possess a one-game lead over the Saints (9-3, 6-3) -- but two-game edge for the in-conference tiebreaker -- in the race for the NFC's No. 2 playoff seed (wild-card weekend bye) ... and Fitzgerald (55 catches, 943 yards, 6 TDs), in case you weren't already aware, is one of the greatest receivers of our time. Round 1 of the playoffs is NOT a good time to doubt Fitz's skills.
8. Unless there's breaking news, don't change your lineup AFTER 12:45 p.m.</strong>: Take it from someone who barely missed the National Football Post fantasy league playoffs last week. Changing out A.J. Green for Deion Branch right before kickoff -- even though Green was nursing a leg injury -- probably isn't a capital idea. Rule of thumb that eerily resembles #2: Stick with your gut when it comes to matters of the star playmaker.
Week 14: QB Locks For 275 Yards and/or 3 TDs
1. Eli Manning @ Dallas
2. Aaron Rodgers 3. Philip Rivers vs. Buffalo
4. Matthew Stafford vs. Minnesota
5. Cam Newton vs. Atlanta
6. Tom Brady @ Washington
7. Tony Romo vs. N.Y. Giants
RB Locks For 120 Total Yards and/or 2 TDs
1. Ray Rice vs. Indianapolis
2. Chris Johnson vs. New Orleans
3. Maurice Jones-Drew vs. Tampa Bay
4. Michael Turner @ Carolina
5. Marshawn Lynch vs. St. Louis
6. Roy Helu vs. New England
7. Rashard Mendenhall vs. Cleveland
8. Frank Gore @ Arizona
9. LeSean McCoy @ Miami
10. Ryan Mathews vs. Buffalo
11. Arian Foster @ Cincinnati
Tale Of The Tape ... Apropos Of Nothing
I made the playoffs in eight of my 11 football leagues this season, with four division titles to boot. But here's the weird part: As the No. 8 seed of the 16-team 'Philanthropist #1' league -- where I had to perform some Week 13 magic just to leapfrog two teams for the final spot -- I'm also somewhat confident of advancing past the No. 1 seed (Jacob Sudek's Confident Crocodiles) and into the Week 15 semifinals. Here's our tentative lineups:
Sudek
QB: Matt Ryan
RBs: Ray Rice, Michael Bush
WRs: Mike Wallace, Wes Welker
Flex: LeGarrette Blount
TE: Benjamin Watson
PK: Olindo Mare
D/ST: New York Jets
Clemons
QB: Matthew Stafford
RBs: LeSean McCoy, Rashard Mendenhall (with Roy Helu, Peyton Hillis riding the bench)
WRs: Percy Harvin, Damian Williams
Flex: Ryan Mathews
TE: Jermaine Gresham
PK: Mike Nugent
D/ST: Houston Texans
For what it's worth: ESPN projects a 120-111 victory for my squad, Count Chocula's Henchmen.
Passing Fancy
Here's a revised listing of my always-fluid rankings for starting QBs, 1 through 32:
1. Aaron Rodgers, Packers (might as well pencil Green Bay in for 16-0)
2. Tom Brady, Patriots
3. Drew Brees, Saints (there's a noticeable discrepancy between his outside/inside numbers)
4. Eli Manning, Giants
5. Matthew Stafford, Lions
6. Cam Newton, Panthers (an absolute machine ... and unimpeachable mainstay for 2012 keeper leagues)
7. Michael Vick, Eagles
8. Tony Romo, Cowboys
9. Ben Roehthlisberger, Steelers
10. Philip Rivers, Chargers (had no trouble with Jacksonville's respectable pass defense)
11. Matt Ryan, Falcons
12. Andy Dalton, Bengals
13. Carson Palmer, Raiders ('garbage-time scoring' is just as sweet as first-quarter paydirt)
14. Mark Sanchez, Jets
15. Alex Smith, 49ers
16. Christian Ponder, Vikings (making great strides as a rookie ... could be a Round 9/10 fantasy pick next year)
17. Josh Freeman, Buccaneers
18. Joe Flacco, Ravens
19. Ryan Fitzpatrick, Bills
20. Tim Tebow, Broncos
21. Matt Moore, Dolphins (judgment call on whether Moore should be the Fins' starter in 2012)
22. Matt Hasselbeck, Titans
23. Colt McCoy, Browns
24. Sam Bradford, Rams (should make a sizable leap next season ... IF Josh McDaniels stays)
25. Rex Grossman, Redskins
26. Kevin Kolb, Cardinals (LaRod Stephens-Howling says, "You're welcome!")
27. Dan Orlovsky, Colts
28. Tarvaris Jackson, Seahawks (a sneaky-good play for sizable numbers Monday against the Rams)
29. Caleb Hanie, Bears
30. Blaine Gabbert, Jaguars (if only he could shuttle-pass his way to respectability every week)
31. T.J. Yates, Texans
32. Tyler Palko, Chiefs (hard to believe he's even on this list)
For more from the Fantasy Philanthropist, head over to Page 2!