September 29, 2011 -
Barry Dorey
Means to an end
A Beach Bum's Ambivalent Introduction
Greetings from Hilton Head, S.C., birthplace of the first experimental steam cannon (pre-World War I) and prominent home to some of the most picturesque beaches on the East Coast ... which should explain why today's Fantasy Philanthropist is shorter than usual.
Titanic Conundrum
We must be living in a parallel universe or Fantasy Bizzarro World. Heading into Week 4, what other rational explanation could justify a healthy and still lightning-fast Chris Johnson trailing Ricky Williams/Danny Woodhead in rushing yards, Cadillac Williams/Ben Tate in rushing attempts, Earnest Graham/Jonathan Stewart in receiving yards, and for the love of Rodney Peete ... John Kuhn, Kendall Hunter, Isaac Redman and C.J. Spiller in touchdowns? Johnson's surprising lack of seismic production (189 total yards, zero TDs) -- against two middling defenses and the Ravens -- is enough to drive fantasy owners batty, especially those who desperately need a victory this weekend. It may also be enough for some GMs to explore the previously unconscionable notion of trading Johnson while his value remains reasonably high. Here are four plausible options for handling Johnson's sluggish start: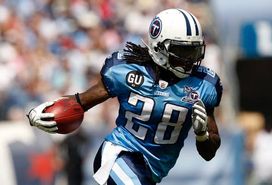 Will Chris Johnson turn it around in 2011?
Option #1: Stand pat ... and hope for the best. Assuming he trained like a fiend during the offseason, it stands to reason that CJ2K (great nickname ... but one that creates sky-high expectations) will find his groove sooner than later. After all, Johnson is essentially running behind the same O-line that dominated opponents during his explosive 2,509-yard, 16-TD campaign of 2009; and with Matt Hasselbeck (932 yards, 5 TDs) recapturing his passing mojo in Nashville, Johnson will seldom encounter eight defenders in the "box" on first and second downs. Plus, Johnson has the benefit of facing 12 less-than-dominant defenses in the next 14 weeks -- starting this Sunday with Cleveland, ranked 29th against the run.
Option #2: Trade Johnson as a 2-for-1 centerpiece. To maximize value here, simply send an email to every owner in your league -- leaving no one out of the loop -- detailing Johnson's availability on the open market. The quickest, least insulting responses will likely involve Owner B surrendering a Tier II tailback (Matt Forte, Tim Hightower, Ahmad Bradshaw, LeGarrette Blount, etc.) and one low-end Tier I receiver (Vincent Jackson, Brandon Marshall, DeSean Jackson, Dwayne Bowe, Steve Johnson) for Johnson. By involving every owner in the process, you'll likely avoid the prolonged haggling that comes from dealing with a single owner who simultaneously professes his love for CJ2K ... while discrediting him as an all-world back, based on three middling weeks. Simply put, Johnson owners still hold the proverbial hammer in all trade talks.
Option #3: Go get Nate Washington, via trade. Factoring in Kenny Britt's season-ending knee injury and tight end Jared Cook's slower-than-expected rise to fantasy relevance, the Titans offense will surely rest on the shoulders of Hasselbeck, Johnson and Washington (21 catches, 258 yards, 1 TD) this season. And acquiring Washington, for a stealth price, would serve as a de facto insurance policy against any short-term struggles that Johnson might endure.
Option #4: Throw the baby out with the bath water. This scenario typically involves the owner of a 1-2 or 0-3 club who's hell-bent on blowing up their core -- as a boom-or-bust means of rolling the dice on a substantial turnaround with someone else's stars; and Johnson serves as a major bargaining chip to the expedited renovation. For keeper leaguers who are in 'contract years' with Johnson ... the risk-reward proposition holds intriguing appeal. For owners who are convinced that Johnson won't return to his top-5 standing in 2011 ... this might be your last golden parachute!
Week 4: QB Locks For 275 Yards and/or 3 TDs
1. Aaron Rodgers vs. Denver
2. Matthew Stafford @ Dallas
3. Drew Brees @ Jacksonville
4. Philip Rivers vs. Miami
5. Ben Roethlisberger @ Houston
6. Matt Ryan @ Seattle
7. Eli Manning @ Arizona
RB Locks For 120 Total Yards and/or 2 TDs
1. Maurice Jones-Drew vs. New Orleans
2. Tim Hightower @ St. Louis
3. Darren McFadden vs. New England
4. LeSean McCoy vs. San Francisco
5. Adrian Peterson @ Kansas City
6. Ray Rice vs. N.Y. Jets
7. Matt Forte vs. Carolina
8. Peyton Hillis vs. Tennessee
9. Ryan Mathews vs. Miami
WR Locks For 110 Yards and/or 1 TD
1. Calvin Johnson @ Dallas
2. Mike Wallace @ Houston
3. Roddy White @ Seattle
4. Wes Welker @ Oakland
5. Greg Jennings vs. Denver
6. Dez Bryant vs. Detroit
7. Hakeem Nicks @ Arizona
8. Dwayne Bowe vs. Minnesota
9. Andre Johnson vs. Pittsburgh
10. Larry Fitzgerald vs. N.Y. Giants
11. Donald Jones @ Cincinnati (super-sleeper pick)
Kicker Locks For 3-Plus Field Goals
1. Sebastian Janikowski vs. New England
2. Rob Bironas @ Cleveland
3. Mike Nugent vs. Buffalo
4. Mason Crosby vs. Denver
5. Jason Hanson @ Dallas
6. Neil Rackers vs. Pittsburgh
7. Dan Bailey vs. Detroit
Talking Points
1. Arian Foster is slated to get the Week 4 start for Houston. Here's how it breaks down in 12-team leagues: Whenever Foster is healthy enough to play for the Texans, fantasy owners are essentially obligated to start him -- no matter the opponent -- out of fear of missing a breakout on the level of last year's all-world production (2,220 total yards, 18 TDs). For Ben Tate owners, they should feel emboldened to start him at the flex spot in 12-team leagues ... on the two-part assumption that 1) Tate (341 total yards, 1 TD) is a cinch for 17-plus touches in a healthy time share with Foster or 2) Foster shall remain a weekly 50-50 bet to re-aggravate his hamstring injury, in the absence of significant rest.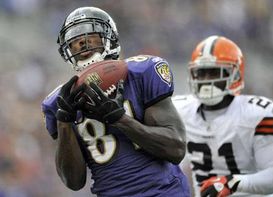 Boldin is looking at a big Week 4 matchup vs. Darrelle Revis and the Jets.
2. Anquan Boldin ranks 9th in receiving targets ... but 25th in receptions. How can Boldin only have 14 catches on 28 targets with Joe Flacco (62-percent passer from 2008-10) as his quarterback? Something doesn't add up here. It's not like opposing defenses can afford to ignore RB Ray Rice as a rushing/receiving maestro or disavow any knowledge of athletic young stars like Torrey Smith (152 yards, 3 TDs in Week 3) and TE Ed Dickson; and yet, that strangely seems to be the case with Baltimore's sneaky-good offense. So many mixed messages ... and not enough time to justify how Boldin drew 14 targets in a 30-point road rout of the Rams.
3. Adrian Peterson got plenty of national run this week for collecting only five second-half carries in Minnesota's meltdown loss to Detroit. If I was a gambling guru, I would happily bet the farm on Peterson (342 total yards, 3 TDs in 2011) garnering 26 or more touches for Vikings-Chiefs -- regardless of the score and irrelevant to whatever pre-huddle plays are coming in from the sidelines. Amazingly, 0-3 Minnesota has blown three straight double-digit leads in the second half, while feeding Peterson the rock just 18.2 times per game (including passes). But we all know that things will change on Sunday ... if for no other reason than the Vikes should never call on QB Donovan McNabb and WR Michael Jenkins to save the day for road games.
Target Practice
Here's a list of PPR-friendly tailbacks with at least 12 seasonal targets (4 per game):
1. Matt Forte, Bears -- 28 Targets
2. Darren Sproles, Saints -- 28 Targets
3. Mike Tolbert, Chargers -- 23
4. Earnest Graham, Buccaneers -- 22 Targets
5. Jahvid Best, Lions -- 20 Targets
6. Ray Rice, Ravens -- 20
7. Chris Johnson, Titans -- 19
8. Ryan Mathews, Chargers -- 18
9. Dexter McCluster, Chiefs -- 16
10. Cadillac Williams, Rams -- 16
11. Jonathan Stewart, Panthers -- 15
12. LaDainian Tomlinson, Jets -- 15
13. Willis McGahee, Broncos -- 14
14. Ahmad Bradshaw, Giants-- 12
15. Reggie Bush</strong>, Dolphins -- 12
16. Peyton Hillis, Browns -- 12
17. Darren McFadden, Raiders -- 12
18. Jason Snelling, Falcons -- 12
When Cedric Benson's Suspension Kicks In ...
In the two career games where Bengals RB Bernard Scott garnered at least 18 touches ... the 27-year-old from Abilene Christian averages 119 total yards per outing.
The Relentless Pursuit Of Perfection
Here's my idea of a perfect fantasy lineup for Week 4:
QB Aaron Rodgers
RB Maurice Jones-Drew
RB Matt Forte
WR Greg Jennings
WR Roddy White
RB/WR Darren McFadden
TE Rob Gronkowski
PK Mason Crosby (Packers)
D/ST Baltimore Ravens
Talking Points, Part II
1. Matthew Stafford finally gets his homecoming game in Big D. Perhaps you've heard that Stafford and Bobby Layne -- the Hall of Fame quarterback who allegedly put a 50-year championship hex on Detroit after getting traded in the late 1950s -- attended the same high school in suburban Dallas? (Didn't Beavis & Butt-Head go to Highland High, too?) And perhaps you've read the occasional blurb about how the 3-0 Lions are Super Bowl contenders, as long as Stafford (977 passing yards, 9 TDs) stays upright for the full season? Well, consider Sunday's Lions-Cowboys clash a statement game for Stafford, who wants to be included among the NFL's elite quarterbacks and likely dreams of torching his hometown team.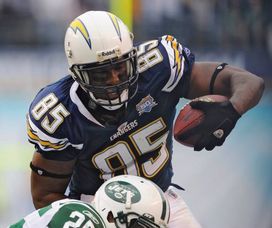 ICONGates has been hobbled by more foot pain.
2. Antonio Gates doubts he'll play in Week 4. It's very difficult (and somewhat disingenuous) to spin positive news from the headline of "Star Player Visits Another Foot Specialist" ... so I won't even pretend that Gates is merely doing his due diligence with the latest round of exploratory discussions with medical experts. When healthy, Gates (7,079 career yards, 69 TDs) is a Hall of Fame-bound tight end at the top of his class; but when saddled with a significant injury that may have been a direct consequence of turf toe, it's hard to envision how Gates will start -- and dominate -- in at least 10 games this season. Bottom line: At this stage, Gates has little high-end trade value ... and Randy McMichael -- Gates' understudy in San Diego -- is nothing more than a roster-worthy, yet eminently replaceable asset in 12-team leagues. Basically, Gates owners are in fantasy limbo ... with little chance of an immediate resolution.
3. Donnie Avery has a chance to fill Kenny Britt's very-large shoes in Tennessee. Call me crazy, but the ex-Rams burner has the athleticism, hands and route-running acumen to be a productive NFL receiver; and I am shocked that St. Louis dropped him back in August, minus a reasonable explanation for doing so (sorry, Austin Pettis and/or Greg Salas don't count). But the Rams' loss is the Titans' gain ... especially since the club is painfully thin at receiver (after Nate Washington) and may need to offer Avery a battlefield promotion -- sooner than later. For 16-team leagues, Avery could become a sneaky-good WR5 as soon as he gets up to snuff with Matt Hasselbeck's delivery ... and as soon as Hass adjusts to Avery's blazing speed.
The Hands That Built America
Here's my top-40 listing of wide receivers in standard-scoring leagues ... from this point forward:
1. Calvin Johnson, Lions (on pace for 32 receiving TDs -- HA!)
2. Andre Johnson, Texans
3. Roddy White, Falcons
4. Mike Wallace, Steelers (an unstoppable force in a versatile offense)
5. Greg Jennings, Packers
6. Larry Fitzgerald, Cardinals
7. Wes Welker, Patriots
8. Miles Austin, Cowboys
9. Vincent Jackson, Chargers
10. Steve Johnson, Bills
11. Hakeem Nicks, Giants (his targets from Weeks 1-3 are the same as last year)
12. Reggie Wayne, Colts
13. Jeremy Maclin, Eagles
14. Steve Smith, Panthers
15. Brandon Marshall, Dolphins
16. Nate Washingto n, Titans
17. Dez Bryant, Cowboys
18. Dwayne Bowe, Chiefs (primed for the challenge of carrying the Chiefs)
19. DeSean Jackson, Eagles
20. Anquan Boldin, Ravens
21. Mike Williams, Buccaneers
22. Devery Henderson, Saints
23. Sidney Rice, Seahawks (could move into top-20 with another big game against Atlanta)
24. Brandon Lloyd, Broncos
25. Santonio Holmes, Jets
26. Santana Moss, Redskins
27. A.J. Green, Bengals (could rack up 100 yards and 10 targets against the Bills)
28. Lance Moore, Saints
29. David Nelson, Bills
30. Julio Jones, Falcons
31. Denarius Moore, Raiders
32. Eric Decker, Broncos (in the realm of gauging Decker's progression level ... targets don't lie)
33. Marques Colston, Saints
34. Deion Branch, Patriots
35. Mike Thomas, Jaguars (the NFL's Hail Mary King)
36. Percy Harvin, Vikings
37. Torrey Smith, Ravens
38. Robert Meachem, Saints
39. Plaxico Burress, Jets
40. Antonio Brown, Steelers (major breakout forthcoming)
Questions From The Audience
LouPros: Which two receivers would you pick for Week 4 -- Anquan Boldin, Denarius Moore, Brandon Lloyd, Mike Thomas or Tampa Bay's Mike Williams?
Answer: Boldin probably deserves more respect for this question, since he burned the Jets for seven catches in 110 yards in Week 1 of last year AND drew 14 targets last week against the Rams; but for standard-scoring leagues, I have the greatest confidence in Lloyd (@ Green Bay) and the rookie Moore (vs. New England). In Lloyd's case, I love his chances against the Packers' surprisingly vulnerable pass defense AND capacity for garbage-time fantasy goodness. On the latter hunch, as his team's best playmaking receiver (not counting Darren McFadden), Moore (9 catches, 180 yards, 2 total TDs) must be a fixture in the game plan IF the Raiders are going to score 25-plus points and flirt with an upset victory over the Patriots.
Nick_Agr5: Would you rather have Nate Washington or Marques Colston for the rest of the year?
Answer: I cannot answer this question right now. For starters, I am stunned that Colston (6 catches, 81 yards in Week 1) has returned so quickly from a broken collarbone, so much that I didn't expect him back earlier than Week 9; and Washington (21 catches, 258 yards, 1 TD in 2011) is well on his way to a breakout campaign -- thanks to his uncanny chemistry with Matt Hasselbeck. With a proverbial gun to the head ... I'd lean toward Washington -- on the hopes that Colston will be easy trade bait before mid-October.
JefferyKnows: Convince me why Steelers WR Antonio Brown should start over Chicago's Johnny Knox in my 12-team league.
Answer: For the record, I never suggested to the masses that Brown (10 catches, 128 yards) be a starting consideration in 12- or 14-team leagues; I merely encouraged -- or begged -- fantasy owners to roster him from the get-go ... while remaining patient about Brown's impending breakout as the Steelers' WR2. His off-the-charts athleticism is simply too good to ignore, especially when Brown (23 targets) has more catches and targets than Knox (9 catches, 189 yards). One last thing: As an NFL wideout, I'd pin my hopes to Ben Roethlisberger (942 passing yards, 3 TDs in 2011) over Jay Cutler.
FlynKn33K: I play in a 2-QB league. Which two should I start in Week 4 -- Philip Rivers, Rex Grossman, Matt Ryan, Eli Manning?
Answer: Let's handle this in two stages: Step 1 -- You NEVER bench Philip Rivers, especially after a poor outing. Step 2 -- When deciding between "locks" for 275 yards and/or three TDs in Week 4 (Ryan and Manning) ... opt for the guy (Eli) playing in a climate-controlled environment (Arizona's solar dome) and who's facing the same team (Cardinals) that surrendered 422 passing yards to Cam Newton -- in his NFL debut.
An award-winning fantasy writer with Sports Illustrated (2008-2010) before joining the National Football Post, Jay Clemons' Fantasy Philanthropist Blog can be found here every Monday and Thursday during the regular season. Clemons can be reached, day or night, via Twitter.