December 06, 2011 -
National Football Post
Miami DT Marcus Forston Declares for the Draft: Where does he stand?
Miami defensive tackle Marcus Forston has decided to forgo his senior season and make himself eligible for the 2012 NFL Draft.
Therefore, when breaking down his game this afternoon I could quickly tell why so many talent evaluators are excited about his overall talent. At 6-3, 300-pounds he possesses a thick, compact frame with natural girth and power through his lower half. He's a fluid kid with natural flexibility when asked to coil up into his stance, exhibits good snap awareness and routinely is one of the first linemen moving off the football.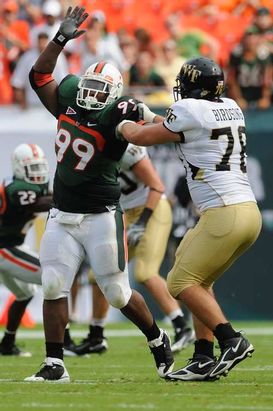 ICONForston needs to play lower.
Forston exhibits a "plus" first step off the ball and can keep his pad level down on his initial six-inch step. He extends his arms well in both the run and pass game, displaying good length and good hand placement on contact. He also showcases the ability to be violent with his hands when looking to disengage and can control blocks because of his natural power/hand placement.
He does a nice job using an opposing blockers momentum against them in the run game, quickly sidestepping on contact and using a compact rip to disengage and close on the play. Forston also showcases some natural suddenness as a pass rusher when slipping defenders as he keeps his hands active, extends his arms well and can make his way up the field.
Forston is a "plus" athlete in pursuit. He exhibits impressive range off his frame and when asked to stunt and loop toward the outside he can run the corner well, maintain balance and quickly eat up space.
However, despite showcasing the ability to bend and initially keep his pad level down on his first step. Forston has a tendency to consistently get upright off the football in both the run and pass game. This takes away from his balance when looking to disengage, his ability to anchor on contact and his overall push as a pass rusher.
You can tell he's a "plus" athlete for the position, but he needs to do a better job playing lower in all areas of the game. Too often he's overwhelmed on contact inside when trying to anchor vs. the run as he allows defenders to get under his pad level and he doesn't have the base needed to maintain balance, hold the point and shed.
The same imperfections show up in the pass game where he doesn't generate the kind of "pop" on contact his physical skill set says he should because of his higher pad level. Now, even when he does get upright he can still slowly overwhelm his blocker, but he gets held up laterally too often when trying to slip/shed and simply doesn't play up to his talents consistently enough.
He also can have a tough time finding the football and will overrun the play inside, but that could have some to do with his lack of considerable experience. He gets a bit wild armed as a pass rusher as well when trying to slip blocks on contact, but again that's a technique thing that with some coaching and hard work can be improved on quickly.
Nevertheless, the biggest concern I have with Forston revolves around his health. He's missed significant time during both the 2009 (ankle) and 2011 season (knee) because of injuries and his medical report will likely be the key in determining just how high he goes.
Overall, the talent is most definitely there. There are some technique flaws that needs to be addressed, as he has to play lower through contact in order to play up to his physical skill set. However, he's an explosive kid who can bend, has a good first step, natural power and is sudden enough to shed blocks in both the run and pass game.
He does need some work, but Forston has the ability to start at the next level with some development, which is something I can't say about many of the defensive tackles in the senior class.
Therefore, if he does checks out medically, Forston could be a prospect that might easily out play his draft spot as a potential 2nd/3rd round pick and become one of the better tackles to come out of this class because of his high upside. And eventually mature into a solid/very good starting three-technique in the NFL.
Follow me on twitter: @WesBunting
Check out the NFP Draft Page here...