December 06, 2011 -
National Football Post
Miami WR Tommy Streeter Declares for Draft: Where does he stand?
Miami wide out Tommy Streeter has decided to forgo his senior season and make himself eligible for the 2012 NFL Draft.
When watching some tape this morning on Streeter, there is a lot to like physically about the kid's game. He's a 6-4, 215-pound athlete with a long set of arms, big hands and is the kind of guy who can create mismatches down by the red zone and will go get the football even when covered up. He showcases a real toughness about his game willing to work the middle of the field, extend his long arms and take the shot. And he does possess the size/body control to go up and get the football in jump ball situations as well.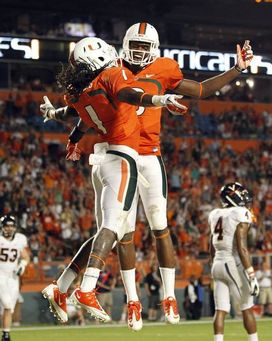 ICONStreeter is a threat in the red zone.
Streeter also displays a deceptive vertical ability about his game as he builds speed as he goes down the field and uses his long stride to track the football and adjust to the play. He fends off the contact well of cornerbacks vertically, typically gets his body in position to make a play and can come down with some tough grabs. Streeter also possesses the size to consistently win as a blocker on the outside where he can use his length to get into defenders and stick through contact.
On the flip side, despite being timed in the 4.4 range at the Miami campus, Streeter doesn't always play that fast. He's a strider who does build speed as he goes, but isn't a real quick self-starter and doesn't eat up the cushion overly well off the line. Plus, he isn't real adept vs. beating press coverage. He does showcase some shiftiness off the line, but doesn't use his hands well to stay clean and lacks an initial burst to separate quickly, allowing defenders to get in on his frame and disrupt his route.
He's also not a real polished route runner at this stage. Too often he's forced to gear down in order to collect himself when asked to run vertical routes (post, corner, post-corner) and I really don't see the ability to initially run away/separate from NFL defensive backs out of his breaks. He does a decent job in the three-step game where he can use his savvy vs. off coverage to set up routes with an shimmy. However, much like when asked to run sharply breaking routes, he really just glides through his breaks and isn't real sharp or sudden. And has a tendency to get upright when changing directions, which is one of the main reasons why he struggles to generate a burst out of his breaks as he looks a bit tight hipped.
Finally, he does have a tendency to put the football on the ground. He isn't a natural plucker despite showcasing the ability to at times to extend his arms away from his frame and come down with the catch. However, more often you will see a guy who looks more comfortable letting passes get into his frame where he can trap throws against his body (even vertically).
Overall, wide receiver is a stopwatch position and if Streeter runs in the 4.4 range at 6-4, 215-pounds he's likely going to go within the top-three rounds of the draft. However, when breaking down his game as an NFL receiver, in my opinion he's not in the same class as former Miami wide out Leonard Hankerson who went in the third round last year. And my concerns about Streeter as an NFL receiver are that he's not a real quick starter, will struggle vs. press, isn't a natural route runner and has a tendency to put the ball on the ground.
Therefore, despite all his physical attributes he looks more like a reserve in the NFL to me, where I think he will be most effective as a big slot who can work the middle of the field and from time to time create the big play vertically.
However, I just have a tough time seeing him separate out of his breaks consistently as a route runner and securing the football vs. physical starting caliber corners on the outside in the NFL, which ultimately will limit his production/upside at the next level.
Follow me on twitter: @WesBunting
Check out the NFP Draft page here...