March 29, 2011 -
National Football Post
Mid/late round safeties that could shine
We all know that the 2011 safety class is as poor as ever. UCLA's Rahim Moore leads the way, but many talent evaluators don't see him as much more than a second/third round pick (myself included). After Moore, Oklahoma's size/speed standout Quinton Carter is getting some love as well as Clemson's DeAndre McDaniel as potential third/fourth round guys. But in all honesty, there are going to be other prospects on the board at the same time each of the top safeties are picked with better grades and NFL teams are going to have to reach for the "top" safeties in the class.
Therefore, here is a list of three candidates who can be had later in the draft as much better values and in my mind could still end up being potential starters on a defense in the right scheme.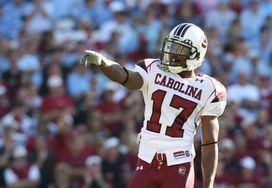 ICONCulliver's speed has him moving up draft boards.
Chris Culliver: South Carolina (6-0, 199)
I remember watching tape of Culliver as a sophomore in the summer of 2009 and the one the thing that instantly stuck out to me was his overall range from the deep half. He wasn't the most instinctive of defensive backs, but boy did he make up ground in a hurry. And despite playing a bit reckless at times, he was also a naturally fluid kid who could open up his hips and run. Plus, he was willing to throw his body around at times, despite his angles being a bit questionable. Nevertheless, in 2010, after making the move to corner to take advantage of his gifted athletic skill set, he missed the final couple games of his career with a torn pectoral and began to slide down boards.
However, after running in the high 4.3 range at the NFL Combine, Culliver is one of the few prospects at the position who can actually run. He's still a work in progress and improving his awareness is something that will be a must. But, if you give this guy some time to develop at the position, Culliver definitely has a superior athletic skill set to just about any other free safety in the class and could end up paying big dividends down the line.
Jaiquawn Jarrett: Temple (6-0, 198)
Jarrett's a guy I've liked on tape for a long time as well. He's a smooth, coordinated defensive back who doesn't waste a ton of motion when asked to change directions and gets up to speed quickly. There isn't much of a second gear to his game like Culliver, but he's cleaner when asked to breakdown and displays more of a nose for the football. Plus, Jarrett really improved his overall feel in zone coverage this year, doing a better job recognizing routes develop around him and also looked more physical as a tackler when attacking downhill. He isn't an elite athlete like Culliver by any stretch, playing more like a 4.55 guy on tape. However, I certainly think there is enough upside and overall growth potential to his game to at least make a roster in year one and fight for playing time down the line, with the possibility of earning a starting job in years 3/4.
Deunta Williams: North Carolina (6-2, 205)
If it wasn't for a broken leg that he suffered in the team's bowl game, Deunta Williams very well could be in the discussion for one of the top two safeties to come off the board on draft day. However, Williams still has NFL officials worried about his medical, which could cause him to fall a lot further than his play would indicate. However, for a guy his size he displays natural coordination and body control in his drop, can pretty fluidity open up his hips for a big guy and has a bit of a burst when asked to close on the football. He displays good, not great straight-line speed and is a solid striker at the point of attack. However, the former Tar Heel isn't the most secure of wrap-up guys and needs to continue to improve his feel in zone. Nevertheless, he's a good athlete for his size, exhibits the ability to change directions, makes plays on the football and if 100% healthy I think he could end up being the best overall safety to come out of the class.