April 21, 2011 -
National Football Post
Mid/late round wideouts with big-time talent
The wide receiver position is notorious for big, physically gifted athletes who certainly look the part of potential first-round caliber prospects. However, for one reason or another they were never able to completely put it all together at the college level.
Nevertheless, the National Football Post looks at a trio of gifted wideouts who have the ability to mature into legit starting caliber wideouts in the NFL, but there is most certainly some bust potential to their game as well.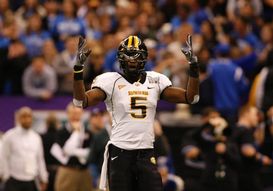 ICONBrown possesses the size and frame to go up and get the football.
DeAndre Brown: Southern Miss (6-6, 233)
Whenever you go back and watch tape of this guy as a freshman in 2008, you saw the making of a legit first-round pick. He was a powerful strider down the field who knew how to shrug off defenders, track the football vertically and consistently come down with the catch. He also displayed some natural fluidity to his game for such a big wideout as well, exhibiting a good burst out of his breaks for someone his size and was comfortable plucking the football off his frame.
However, he suffered a gruesome broken leg in his final game as a freshman and has had to deal with injuries ever since. This year he struggled with a nagging lower leg strain that took away from his effectiveness once again, causing him to miss seven games and he has never really looked like that legit first-round talent we saw in 2008 since then. Now, there are also some character concerns with the guy as well and the word "immaturity" continues to come up when discussing him as a prospect. And whenever you have an immature kid they struggle to handle pain and adversity, and rarely are able to live up to their potential. But, Brown most certainly has the talent to become a starting wideout at the next level — it's just up to him to figure out how bad he wants it.
Terrence Toliver: LSU (6-4, 212)
Toliver might be the biggest tease of any wide receiver prospect in the draft. You see this big, long-armed athlete who displays some natural polish/coordination as a route runner, can generate initial separation for himself out of his breaks and at times will go up and violently come down with the football. And at those times the guy looks like a big-time caliber wideout.
However, inconsistency is the one thing that has plagued him throughout his college career, mainly catching the football. If you're a team that drafts Toliver, the scouting report in bold print will have to read "he will put the football on the ground." Toliver drops more catchable passes than any prospect I saw on tape this year, and in my view it's not that he has bad hands, but more so poor concentration. He isn't a real focused wideout, routinely has lapses mentally and because of that will drop the football. He's a talented kid, there is no doubt about that, but his inconsistencies are too much in my mind to warrant much more than a mid/late round pick.
Greg Little: North Carolina (6-3, 231)
Honestly, the first time I saw Greg Little up close, I thought the guy was a linebacker. That's the kind of size he possesses. He's a strong, physical wideout who has played running back in the past and it shows in his ability to break tackles and run after the catch.
<p> Now, he's still a work in progress. Little is raw as a route runner and lacks great straight-line speed. However, during his time at UNC he never played the same position for two straight years (shifting back and forth between running back and receiver) and still has a lot of upside to his game. He was considered one of the potential breakout wideouts this year as a senior, but missed the entire season due to his role in the agent scandal.
Therefore, what you're getting is a physical, run after the catch type receiver who is only starting to scratch the surface of his potential. However, due to some positional changes and hiccups off the field during his time at UNC, he's going to need some time to develop into a polished NFL wideout. Little is more of a gifted physical athlete than savvy football player at this stage, but I can see him making an instant impact in the NFL if he's willing to put in the time because of his ability to run after the catch.